Your doctor or the clinic staff will make the necessary booking for your admission to our hospital. We will be able to confirm the availability of room type only at the time of admission. This is due to the uncertainty of patients' discharges and emergency admissions. However, most of the time, patients are admitted to the rooms of their choice. Should your choice of room be not available during admission, we assure you that we will make the transfer to your preferred room type as soon as it is available.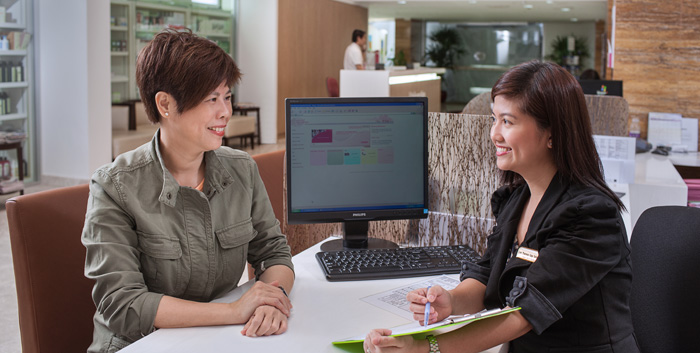 You may choose form the following room types:
Family Suite
Single Room
2-Bed Room
4-Bed Room
6-Bed Room (not available for maternity patients)
All rooms are tastefully furnished, air-conditioned and equipped with attached bathroom and toilet facilities, telephone and television with in-house movies except for 6-Bed rooms, in which televisions are not available.
Please note that in consideration of patients' need to rest, only one companion is allowed in single rooms and there is a daily charge for the companion, which includes all meals.
Inpatient admission (24 hrs)
Please register at the Business Office located at Level 1.
Day surgery admission
Please register at the Day Surgery Centre located at Level 4.
Pre-Admission
To expedite the admission process, you may click here for Pre-Admission Registration.
Please check into our hospital at the appointed time as requested by your doctor. You or a member of your family will be asked to provide information and to complete some documents.
For surgical patients
If your surgery is scheduled for the same day as your admission, please check into the hospital at least 2 hours prior to surgery time.
If you are having a major surgery, please come to the hospital one day before the surgery for the necessary blood tests as arranged by your doctor.
Instructions for what you should and should not do will be provided by your surgeon prior to your surgery. Please remember to follow your surgeon's instructions on whether or not you need to fast before your surgery.
For day surgery patients
It is advisable not to drive yourself home after the surgery. Please arrange for someone like a member of your family or friend to accompany you home instead.
Original Documents
Identity Card or Birth Certificate (if under 12 years old) or Passport (for foreigners), Spouse's/Parent's Identity Card
Doctor's Admission Letter
Previous medical health reports e.g. X-Ray, Laboratory Reports, Blood Test Results, etc.
Letter of Guarantee from your employer / insurance company if part or all of your medical expenses are to be borne by your company / insurance company.
A list of all medications you are presently taking, and the dosage.
Personal Items
Pyjamas or night dress
Non-slip slippers
Personal Toiletries
For the Expectant Mother*
Night dresses with front opening to facilitate breastfeeding
Personal toiletries
Socks (to be worn in the Delivery Suite)
Original marriage certificate for registration of baby's birth certificate
*It is advisable to pack what you need one month before your expected delivery
For the Newborn
2 pairs of mittens
A set of baby clothing to be worn during discharge
A baby wrapper or blanket
Please do not bring along excessive cash and valuables. Please leave your valuables at home as the hospital will not be able to accept responsibility for any losses.
You will need to make a deposit on admission. You can pay your hospital deposit by cash, NETS or credit card.
If the total bill exceeds a certain amount, a notice will be given to you, informing you to top up your deposit during your hospital stay.
If your company is registered with our hospital for credit facilities, or if you are covered by medical insurance, please present a Letter of Guarantee from your employer or insurance company. This letter exempts you from paying a deposit on admission.
You can use Medisave to cover hospitalization and day surgery expenses. However it does not cover outpatient expenses except those treatments approved by the Ministry of Health.
There is a limit on the amount claimable. Medisave withdrawal limit per day for inpatients is $450 and $300 for day surgery.
In addition, surgery fees of between $250 and $7,550 are claimable depending on the type of surgery.
Our Childbirth Education classes are specially designed by a team of parentcraft specialists, physiotherapists and dietitians to help you and your partner understand and appreciate the different stages of childbirth. This programme consists of six sessions conducted weekly.
For enquiries, please call the Alvernia Parentcraft Centre at 6347 6641 between 9am to 5pm (Mon to Fri) and 9am to 1pm (Sat). To register online, please click here.
Patients' Responsibilities
Information
Please provide accurate and complete information about your present medical condition and any infectious conditions you may have, including past illnesses, hospitalizations, medications, Advance Medical Directives (AMD), and other relevant details in order for you to receive appropriate and safe medical treatment.

Please inform us if you have any existing infectious conditions so that appropriate infection control procedures can be taken.

Please advise us of any changes in your health status
Admission
Please do not bring any valuables with you, as you are responsible for the safekeeping of your personal possessions during your stay in the hospital.

Please arrive for admission at the appointed time so as to ensure that the necessary pre-surgical preparations can be completed in a safe and controlled manner.
Medication
All your medication will be supplied by our hospital pharmacy and administered by our staff whilst you are in hospital.

Please inform our doctor and staff of all medication you are taking prior to admission.

Please do not bring any medication from home unless you need to show it to the attending doctor.

Any medication that you bring from home will not be administered and will be returned to you for safekeeping.
Hospital Equipment & Facilities
For your safety, please do not tamper with any medical devices whilst admitted to our hospital.

Please respect hospital equipment and facilities, treat such property with reasonable care, and avoid wastage of precious resources such as water.
Respect for Others
Please respect the rights of other patients in our hospital who also require rest and the attention of our staff.
Please show respect and courtesy to all staff, doctors, nurses and visitors.
Please be responsible for your own conduct and behaviour during your hospital stay. Any threat, harassment, or intention to cause harm or disrupt the hospital operations is not acceptable and will be dealt with seriously.
Please comply with hospital policies and regulations on safety. E.g. No smoking policy
Bill Settlement
It is your responsibility to pay your bills or make suitable arrangements to fulfil your financial obligations. By remitting your bill duly and on time, you will help the hospital continue to focus on its work to serve patients and attend to their healthcare needs.
At Mount Alvernia Hospital, we provide quality care to every patient and family. As a patient, you have many rights, which are summarized here.
Dignity of the Individual
We respect the inherent dignity of each person.

We recognize that each person is a creation of God and that each one's dignity is to be respected in life and in death.

This dignity extends to all people, regardless of race, language or creed.

We respect each individual's faith and culture.

Direct abortion, i.e. any procedure of which the sole immediate effect is the termination of foetal life, is never permitted.

Operations, treatments and medications which do not directly intend termination of pregnancy, but which have as their purpose, the cure of a serious pathological condition of the mother are permitted when they cannot be postponed until the child is viable without endangering the mother's life, even though they may or will result in the death of the child.

We will protect patient safety and provide access to security services.

Your special needs will be respected, whether these mean requiring language translation, observing religious food requirements, special devices or access assistance, during the course of your care.

We will source for external language translators if requested.

You have the right to refuse to donate tissue or participate in any sort of medical research whilst admitted to our hospital.

We will respect and comply with your decisions made in accordance to your Advance Medical Directive.
* The Advance Medical Directive (AMD) is a legal document you sign in advance to inform your doctor that you do not want the use of any life-sustaining treatment to be used to prolong your life in the event you become terminally ill and unconscious and where death is imminent.
Confidentiality and Privacy
We will honour your personal privacy and the confidentiality of your medical information and records

Your medical information and all aspects of care rendered to you will be kept private and confidential.

Your medical records will be accessed only by those involved in treating you and arranging your care. These records will not be released to anyone without your consent, except when required by the law or a third-party payer contract.

You may request for a copy of your medical report in accordance to the hospital's policy.

Your medical records are kept in a safe and secure environment.
Making an Informed Decision About Your Treatment
You are entitled to the right to be adequately informed first, and have the freedom to accept or reject proffered treatment. All procedures require informed consent appropriate to the circumstances.

You are entitled to information that will help you participate in decisions involving your medical condition and treatment.

You are entitled to clarification about your medical condition, treatment and test results in a language that you understand.

You are entitled to information about possible risks and side-effects of the various methods of treatment available.

You have the right to know the names of the healthcare professionals responsible for your treatment and care.

You are entitled to access to people and information about health education, self-care and prevention of illness.

You are entitled to seek a second medical opinion at your own expense. The second opinion should be obtained with the knowledge of the Doctor who admitted you to the hospital. The Doctor looking after you cannot refuse a request for a second opinion.

The Doctor whom you wish to call in for a second opinion must, however, be registered with the Singapore Medical Council and accredited with Mount Alvernia Hospital.
Emotional and Spiritual Support
We work for the wholeness and healing in each person. We endeavour to help our patients attain wholeness, reconciliation, harmony and peace within themselves.

We strive to be attentive to each person's needs in the physical, psychological and spiritual aspects of their lives.

We respect and support your right to observe your own social, cultural and spiritual beliefs and rituals. At Mount Alvernia, a Catholic Chapel is available within hospital grounds for private prayer and reflection.

During your stay in the hospital, you may arrange for your own spiritual care, and request for any counselling or pastoral support to be made available.
Pain Management
Our healthcare team is committed to work with you and help you be as comfortable and free from pain as possible.

Care for Children
Our paediatric patients have the right to quality medical care appropriate to their age and development level.

When medical information cannot be presented to patients who are too young, the information will be provided to their parents or guardians.

Children have a right to be treated in a safe environment and receive emotional support which may include minimal separation from their family within the limits of medical care provided.
Financial Counselling
You are entitled to financial counselling and an estimate of your hospital bill at the time of your admission, as required under the Private Hospitals and Medical Clinic Act.

Please ask your doctor or ward staff for information related to any change in your treatment plan or medical needs which may alter the initial estimate given when admitted.

You will be advised of the financial commitment required to cover your medical treatment in hospital.

You have the right to ask for information relating to hospital charges and seek necessary clarification about admission to our hospital.
Upon Your Discharge
You may request for your healthcare instructions in writing so that you have the information you need to care for yourself at home.

Please seek clarification if the information is not clear and ensure that you and your care-giver understand the healthcare information given.

Your medication must be followed as prescribed, and if you have any concerns about your safety, please inform your nurse, doctor or therapist.

Please ensure that you provide all relevant names and contact information to facilitate easy reference and follow up by your doctors, clinics, pharmacies and rehabilitation services.
Organ Transplantation
The transplantation of organs is morally permissible provided the loss of such organs does not deprive the living donor of life itself, or of the functional integrity of his/her body. All such procedures require informed consent referable to both donor and recipient.

In Singapore, the Human Organ Transplant Act (HOTA) allows for the kidney, liver, heart and cornea to be removed in the event of death from any cause for the purpose of transplantation. The act is applicable to all Singapore citizens and Permanent Residents 21 years and above, who are sound of mind, unless they have opted out. It also regulates living donor transplantation.

Those who do not wish to donate any organs after death may opt out of HOTA. Patients who opt out of HOTA will not have priority in receiving a cadaveric organ if they need one.
Your Feedback Is Valued
We welcome all feedback as part of our efforts to continuously improve our care and services to serve our patients better.
If you have any comments/suggestions, please feel free to speak directly with any of our Managers in charge.
You may also approach our Quality Resource Management Dept at
Tel: 6347-6637; email: qmdept@mtalvernia.sg or write to our postal address:
Mount Alvernia Hospital, 820 Thomson Road, Singapore 574623.