Your doctor or the clinic staff will make the necessary booking for your admission to our hospital. We will be able to confirm the availability of room type only at the time of admission. This is due to the uncertainty of patients' discharges and emergency admissions. However, most of the time, patients are admitted to the rooms of their choice. Should your choice of room be not available during admission, we assure you that we will make the transfer to your preferred room type as soon as it is available.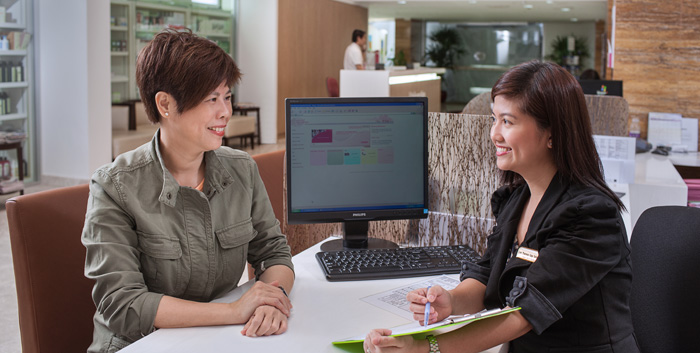 You may choose form the following room types:
Family Suite
Single Room
2-Bed Room
4-Bed Room (not available for maternity patients)
6-Bed Room (not available for maternity patients)
All rooms are tastefully furnished, air-conditioned and equipped with attached bathroom and toilet facilities, telephone and television with in-house movies except for 6-Bed rooms, in which televisions are not available. Learn more about our rooms here.
Please note that in consideration of patients' need to rest, only one companion is allowed in single rooms and there is a daily charge for the companion, which includes all meals. Find out more about our room rates here.
Inpatient and day surgery admission (24 hrs)
Please register at the Main Lobby Business Office located at Level 1.
Pre-Admission
To expedite the admission process, you may click here for Pre-Admission Registration.
Please check into our hospital at the appointed time as requested by your doctor. You or a member of your family will be asked to provide information and to complete some documents.
If your surgery is scheduled for the same day as your admission, please check into the hospital at least 2 hours prior to surgery time.
If you are having a major surgery, please come to the hospital one day before the surgery for the necessary blood tests as arranged by your doctor.
Instructions for what you should and should not do will be provided by your surgeon prior to your surgery. Please remember to follow your surgeon's instructions on whether or not you need to fast before your surgery.
Financial counselling on the estimated hospital bill will be given upon your admission. Your actual bill will depend on the type of accommodation, estimated length of stay, diagnosis, type of operation and procedures ordered by your doctor upon admission.
A deposit will be collected upon admission for most cases. The deposit will be based on the estimated hospital bill and will be used to offset the charges incurred during your hospital stay.
If your company is registered with our hospital for credit facilities, or if you are covered by medical insurance, please present a Letter of Guarantee from your employer or insurance company. This letter exempts you from paying a deposit on admission.
If the total bill exceeds a certain amount, a notice will be given to you, informing you to top up your deposit during your hospital stay.
For more information on Cost & Financing, click here.
Original Documents
Identity Card or Birth Certificate (if under 12 years old) or Passport (for foreigners), Spouse's/Parent's Identity Card
Doctor's Admission Letter
Previous medical health reports e.g. X-Ray, Laboratory Reports, Blood Test Results, etc.
Letter of Guarantee from your employer / insurance company if part or all of your medical expenses are to be borne by your company / insurance company.
A list of all medications you are presently taking, and the dosage.
Personal Items
Pyjamas or night dress
Non-slip slippers
Personal Toiletries
For the Expectant Mother*
Night dresses with front opening to facilitate breastfeeding
Personal toiletries
Socks (to be worn in the Delivery Suite)
Original marriage certificate for registration of baby's birth certificate
*It is advisable to pack what you need one month before your expected delivery
For the Newborn
2 pairs of mittens
A set of baby clothing to be worn during discharge
A baby wrapper or blanket
Please do not bring along excessive cash and valuables to the hospital. Please leave them at home as the hospital will not be liable for any losses.
Pre-Admission
For your pre-admission preparation, please feel free to refer to our Pregnancy Checklist or visit our Mother & Child site.
Birth Registration Service
From 29 May 2022, all birth registration services over the counter have ceased operations.
All parents, regardless of their immigration or marital status (with or without Singpass), must register the birth of their child via the LifeSG app within 42 days.
Please visit https://www.life.gov.sg/#ways-we-help for more information on this service or download the app to use the service now.
Download
Register for a CDA account
You can register for a Child Development Account with our partner POSB here.
Go for baby blessing
We would love to conduct baby blessing for your little one at our chapel. It is available for every newborn regardless of race, nationality or religion. You may contact our ward staff to arrange for a suitable time.
Baby Bonus Application Service
You may apply for this via the LifeSG app as well. Otherwise, you can apply online at https://www.babybonus.msf.gov.sg using your Singpass account. Please make sure that you have the following documents ready to complete application:
• Bank Account Holder's account details to receive the cash gift
• Personal particulars of the Bank Account Holder and CDA Trustee if they are a third party (i.e. not the child's parent)
• Adoption order and Schedule (if your child is adopted)
• Marriage Certificate (for overseas marriages) For more information, please visit the official website at https://www.babybonus.msf.gov.sg/parent/web/home
Please note: Birth registration will not be processed if you fail to produce any of the required documents stated above.
The Hospital discharge time is by 11am (before lunch). For discharge between 11am to 6pm, a half-day room charge will be levied. For discharge after 6pm, a full day room charge will apply.
For Day Surgery Patients
Discharge time for day surgery patients depends on the time of the procedure and patient's recovery time.
It is not advisable for patients to drive home after the surgery. You may wish to seek for alternative transportation arrangements.