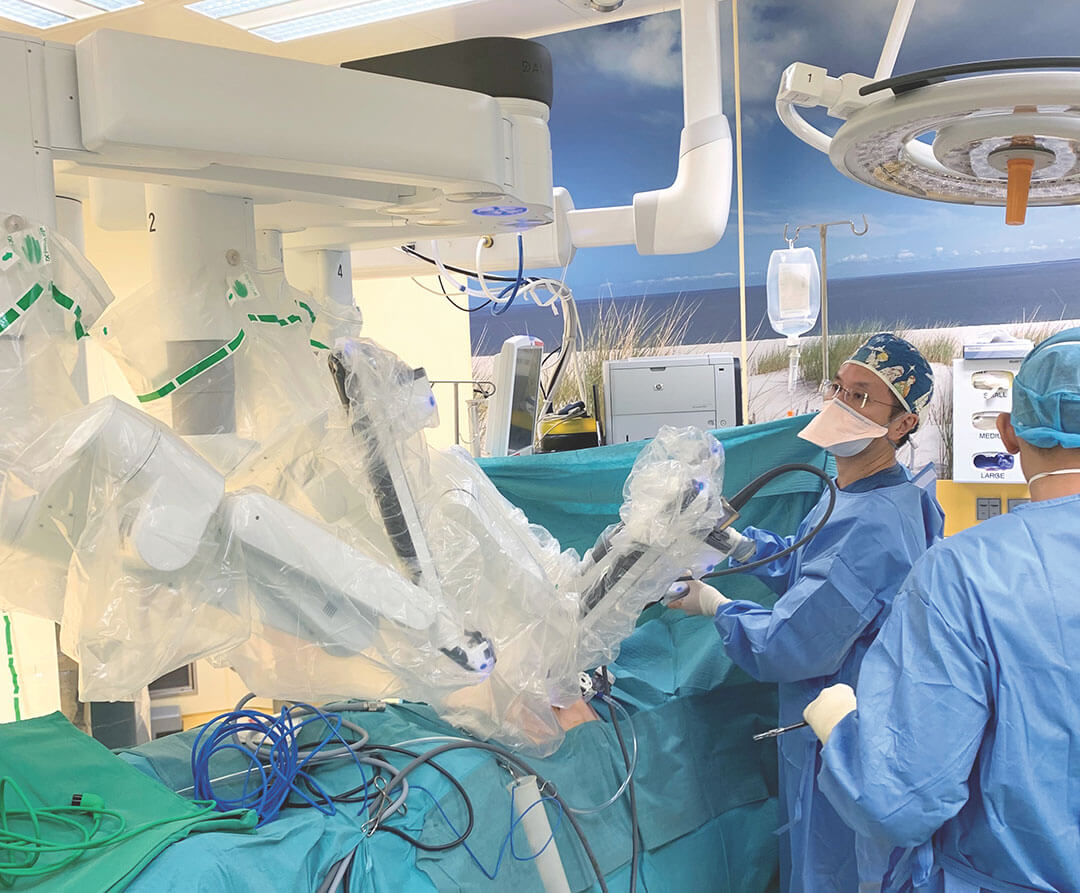 With colorectal cancer being Singapore's top killer, using robotic technology can potentially save many lives. Find out more from General and Colorectal surgeon, Dr Dean Koh from Colorectal Clinic Associates.
Robotic surgery = done by robots?
Fear not, you will have a proper surgeon in your operating theatre.
"A common misconception is that robotic surgery is done autonomously by a robot. This is not the case. The surgeon carries out the surgery by controlling the robotic arms and instruments through a console, which is physically separate from the patient's side," explains Dr Koh.
Robotic surgery vs standard surgery: which is better?
Robotic technology is used to perform minimally invasive surgery (also known as laparoscopic surgery). It is more accurate than standard laparoscopy and conventional open surgery, because the robotic instruments can mimic hand and wrist functions. Using high-definition optics, motion scaling and tremor filtering, the surgeon can use up to ten times magnification. This will greatly improve his or her precision and accuracy.
Recovery-wise, patients also experience significantly less pain after their operation. They can regain normal mobility and function earlier too. As robotic colon surgery patients tend to suffer lower incidences of wound infection, lung infections and bowel ileus (or paralysis), this translates to shorter hospitalisation time. They can thus return to work and their family life more quickly.
Just like conventional open surgery, robotic colon surgery can remove cancer completely and survival rate is the same. "There is no compromise to the quality of cancer treatment with these minimally invasive techniques," reiterated Dr Koh to debunk a common misconception.
When should the patient opt for robotic surgery?
"The robotic technique is ideal for rectal cancer resection, which removes the cancerous tumour in the rectum," says Dr Koh. As the rectum is located in the narrow confines of the pelvis – imagine a tight, funnel- shaped space packed with all the organs and vital structures – robotic surgery's greater accuracy is therefore very appreciated here. The surgeon can make use of improved optics, dexterity and accuracy of the robotic system to conduct a successful surgery, leading to improved outcomes.
In fact, this technique has been so successful that it is now used to remove tumours in all segments of the colon, not just the rectum.
Are there any cancers that do not suit robotic surgery?
Yes, those that are large, locally invasive and involve other nearby organs. "These cancers remain best treated surgically with the conventional open technique," clarifies Dr Koh.
Post-robotic surgery options
After the tumour is removed, depending on the patient's cancer stage, his or her surgeon may prescribe further treatment. Chemotherapy is usually added if the cancer has spread to the lymph nodes. Radiotherapy has also been useful in decreasing the risk of local recurrences. Thus, the doctor may select a combination of chemo and radiotherapy in certain stages of rectal cancer to shrink the tumour, so that there is complete resection of the tumour and the anal sphincter is preserved.
Article contributed by Dr Dean Koh, accredited doctor from Mount Alvernia Hospital.
This article is taken from our MyAlvernia Magazine Issue #46. Click here to read the issue on our website.