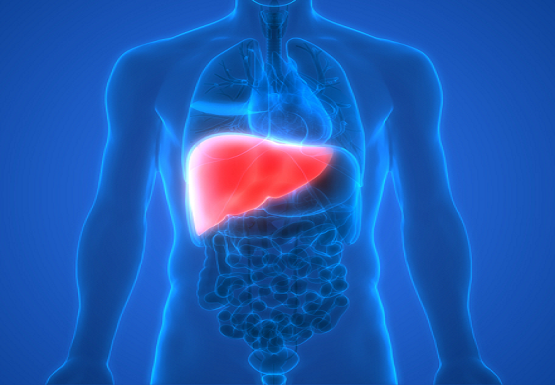 The liver is one of the largest and most important organs in your body. Sitting on the right side of the belly protected by the ribs, this organ stores vitamins, sugars, fats, and other nutrients from the food that you eat and either repackages it for your body to use or eliminate it. Dr Mark Fernandes, Gastroenterologist, gutCARE Digestive•Liver•Endoscopy Associates, talks about fatty liver which is becoming prevalent due to modern lifestyles and how further investigations using fibroscan helps in timely disease management.

The Liver – this hardworking organ is a critical factor in our health. In general, the food and drink we consume plays a significant role in the liver's health. In addition to the detoxification function, the liver can regenerate itself by repairing or replacing injured tissue.
LIFESTYLE IS A FACTOR
When a person becomes overweight, the liver is 'overtaxed'. As the regulation process breaks down, excess fat starts to build up in the liver. This causes the liver to enlarge and form yellow fat deposits and fatty liver disease develops. In simple terms, it is basically excess fat in the body being stored in this organ which causes swelling and scarring. In this respect, prevention is the best treatment and if uncontrolled, can even end up in liver failure, explained Dr Mark Fernandes.
"The situation is becoming increasingly alarming with about 30- 40% of the general population or about 1.6 million people in Singapore affected by a chronic liver disease resulting from metabolic syndrome called non-alcoholic fatty liver disease (NAFLD)," said Dr Fernandes.
More people here are developing metabolic syndrome because of increasingly sedentary lifestyles, an aging population, childhood obesity and unhealthy diets, he said. "The trend is that fatty liver is going to be the most significant liver disease of our generation in Singapore. For this reason, it is important for people to start screening earlier," advised Dr Fernandes.
Liver cancer remains the 4th most common cancer in Singapore while approximately only 2.7%-3% of liver failures were due to hepatitis B.
According to Dr Fernandes, the fatty liver disease tends to affect more males, diabetics, alcoholics and those that are 60 years and above. As of today, 11 % of the population are diabetics, with another 14% being prediabetics (insulin resistant/ glucose intolerant).
The good news is that a simple fatty liver condition is reversible in most cases, though if it is not managed properly, it can lead to a more serious liver disease where the fatty liver becomes inflamed.

WHO SUFFERS MOST
In general, constipation affects the elderly more than the young. Not only do most of the diseases linked to constipation occur in later life, but the incidence of poor nutrition and inactivity increases in old age due to a wide range of reasons.

DEEPER INVESTIGATION
Early detection through regular follow-up and health screening is the first step to curing most liver diseases. In addition to Hepatitis B screening in most comprehensive health screening packages, you can also find liver function tests and cancer markers for the liver. If the health screening test picks up abnormalities, further investigations can be carried out using a Fibroscan.
An ultrasound of the liver is like a resting electrocardiogram (ECG) whereas a Fibroscan is like a threadmill ECG where it gives a deeper analysis of organ functions under stress, Dr Fernandes described.
"In the case of Fibroscan, it detects liver cirrhosis or scarring to the liver and clinical insights of liver condition and intervention will be required. Blood tests and an ultrasound may not be sufficient to give you the answer to manage the abnormality," Dr Fernandes said.
Fibroscan is a non-invasive painless scan that takes a measurement of liver stiffness using transient elastography technology. The Fibroscan uses a wand-like probe placed on top of the skin close to the liver. It is painless and feels like an abdominal ultrasound. A vibration sent through the liver measures the speed of the sound wave as it travels through the liver. The speed of the wave is dependent on how 'soft' or 'hard' your liver is. The 'stiffer' the liver, the more scar tissue and the more advanced is the disease.
This technology has been around for over 10 years and is recommended in almost all international liver guidelines.
The entire procedure lasts less than 10 minutes and the scan results immediately provide actionable insights including treatment required and whether a liver cancer screening is necessary. Patients are able to return to normal activities following the procedure.

LIVER CARE WITH EXERCISE AND DIET
While the statistics look staggering, there are excellent treatments for fatty liver and even liver cancer is curable if detected early.
Dr Fernandes explained, "For liver cancer, there are multiple treatment options including minimally invasive techniques such as radiofrequency ablation to liver transplantation. Both have excellent 5-year survival rates of greater than 70% for early stage cancers.
"One can maintain a healthy liver by drinking alcohol in moderation, maintaining a body mass index of less than 23, doing regular exercise. Most importantly, if you do know that you have a cause of liver disease, it's important to seek regular check-ups with your doctor."
A healthy diet for the liver includes reducing alcohol intake and the total number of calories in your diet. "However there isn't a miracle cleansing diet and individuals should be cautious about pills or supplements that claim otherwise," Dr Fernandes advised.
Article contributed by Dr Mark Fernandes, an accredited doctor at Mount Alvernia Hospital.
This article is taken from our My Alvernia Magazine Issue #25. Click here to read the issue on our website or on Magzter.