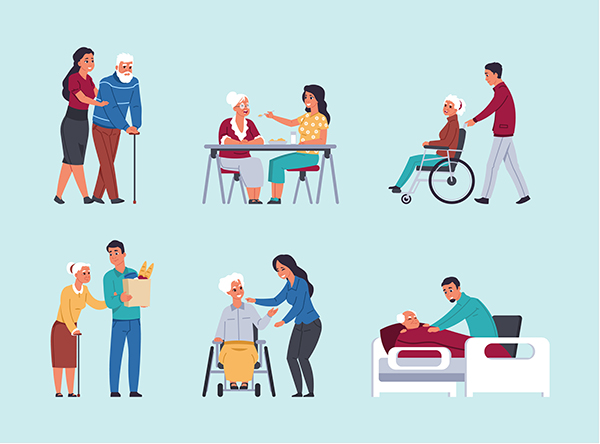 by Anthony Goh
When I was asked to share my views on community outreach, I drew on my first-hand experience of serving as a befriender in a major public hospital. It reminded me that it is indeed more blessed to give than to receive.
MY INSPIRATION
My journey in volunteering began after attending some lectures and workshops conducted by RSVP Singapore (The Organisation of Senior Volunteers). Speaker after speaker spoke about their meaningful real-life experiences in helping set up old people's homes, and volunteering in hospitals.
Furthermore, I had always admired healthcare workers, and to this day remain awed by their tireless efforts in looking after the disabled and chronically sick. While at my age I do not have the requisite skills, strength and dexterity for dedicated individual care-giving, I am fortunate enough not to need it myself.
Volunteering is also in my blood. Born in 1938 and a survivor of the war years from 1939 to 1945, my family lived in a poverty-stricken kampong. I had five siblings, all born after me, who sadly all passed away in childhood. Despite her large brood and her heartache, my mother still found time to lead a Catholic prayer group, tend to sick neighbours and pray for the dead.
Like my mother before me, I found myself with time and energy to spare. I wanted to emulate her noble ways and be the compassionate person she raised me to be. The best way I could think of to continue my mother's legacy, express gratitude for my good fortune, and repay society for all the ways in which I have benefited from being a Singaporean, was to become a healthcare volunteer.
That is how I came to volunteer as a befriender to sick and aged heart patients at National Heart Centre Singapore (NHCS).
MY RESPONSIBILITIES
My duties as a befriender are focused on helping patients register at the Registration Kiosk of NHCS.
Prior to commencing 'active duty', under the auspices of C3A (Council for Third Age) and RSVP, I attended half-day lectures and workshops on 'Building meaningful befriending relationships', 'Developing servant leadership for volunteerism' and 'Handling awkward situations when serving as a volunteer'.
I served as volunteer at NHCS every Friday for three hours per week, from 9am to 12 noon. My tour of duty lasted 10 months starting from March to the end of December 2019, interrupted only by the onset of COVID-19. I long for the day when this pandemic will pass and I can resume my duties.
The nature of my work entailed registering patients at the two kiosks based on their ICs or appointment letters. While scanning I had to ask them a short series of mandatory questions – "Do you have flu or cough?", "Any fever?", "Have you travelled recently to Middle East, Africa or China?". I would then direct the successful patients to the relevant counters or departments, and the unsuccessful ones to the enquiry counter.
I am sad to say that many patients were frail and sickly, and quite a few needed wheelchairs. Fortunately I am multi-lingual, so I was able to converse with most patients in their mother tongues – be it English, Malay or one of several Chinese dialects. This seemed to put them at ease.
MY REWARDS
Befriending and serving heart patients made me forget about my own problems – and remember my good fortune at the same time. I often found myself uttering silent prayers for their quick recovery. A handful of them, after their consultations or procedures, would drop by to say goodbye and offer to buy me a drink. They came in search of a sympathetic ear and would talk about the frustrations of living with their respective illnesses.
In short, it felt good to be useful, and even better to be truly helpful to people in their hours of need.
WORDS OF ADVICE
I encourage all retirees who possess the basic skills set to deal with people, individually or in groups, to volunteer in healthcare organisations or hospitals.
As an octogenarian, my friends are becoming fewer and fewer. Sometimes I feel very lonely and isolated. What better way to connect with people than to serve as a volunteer?
Three hours on any given day in any week, I could serve 100 to 150 patients. Despite their illnesses, the vast majority were cheerful and expressed their thanks for the small assistance I extended to them. I can truly say – to myself, to every volunteer and to every potential volunteer: It is more blessed to give than to receive.
ON MOUNT ALVERNIA HOSPITAL'S COMMUNITY OUTREACH
We live in a less than egalitarian society teeming with people who are poor, who are sick, who are aged, and who are marginalised through no fault of their own. These people need our assistance, and I believe it is the duty of a civilised society to provide it.
I greatly admire the unique Mount Alvernia Hospital outreach programme, which reaches out in practical ways to those who are underserved in Singapore, regardless of race, faith, rank or nationality.
As an elderly person, I am all too aware of the many discriminations against the aged. Yet when it comes to the issue of discrimination against foreign workers and maids, it is unchartered territory for me. I particularly commend the generous altruism of the hospital's outreach team in reaching out to this often overlooked group of people. When the passing of the pandemic permits more active volunteerism, I hope that many will puttheir hands up to help.
From what I have read, community outreach is heading for exponential growth post-COVID-19. This unforeseen global calamity will no doubt leave many people struggling with the long-term ill-effects of the coronavirus, along with debts incurred during long periods of unemployment or under-employment. Perhaps seniors like me, and hopefully including me, can play a part in continuing the noble works of Mount Alvernia Hospital Community Outreach?
The opinions expressed in this article are those of the author.
This article is taken from our My Alvernia Magazine Issue #45. Click here to read the issue on our website.