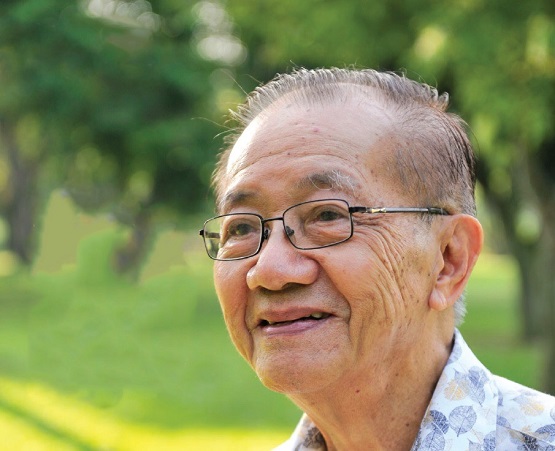 Physically, I am 82 years old. But mentally, I feel that my mind has not been adversely affected by the passage of time. What is my 'secret' to staying mentally young? I simply keep myself occupied, mentally and physically, by setting goals each day. I make up my mind to achieve them, and thankfully my ageing body follows – at least most of the time.
THE POWER OF PURPOSE
I believe that I live for a reason, and that is to give back to society what I have received from it. This creates a sense of purpose in my life, which requires me to observe deadlines and adhere to schedules. This, above all, keeps me mentally young.
I volunteer as a befriender of the sick, which requires me to regularly report for duty at a given hour on a given day. In addition, I have undertaken writing commitments, which include my contributions to this very magazine. In addition to these voluntary activities, my daily routine includes the preparation of a nourishing breakfast and evening meal for myself and my daughter, and a brisk morning walk and workout with the aid of the open-air gym equipment in my estate.
Rather than creating an unnecessary source of stress in my life, these time sensitive and purpose-driven commitments provide me with what I consider to be a highly necessary source of motivation and satisfaction. Be it writing an article or putting food on the table, every task requires a degree of concentration that helps keep me focused, connected and mentally alert.
MY PERSONAL TRICKS AND TIPS
Besides living each day purposefully, I have developed some little mental workouts that help to keep my mind sharp. For example:
Count your steps

Starting with my hour-long morning walk, I count the steps I take in order to improve my memory.

Follow the news

After my morning walk, I catch up with the latest news in The Straits Times and on cable TV, focusing on programmes that cover politics and health matters. This not only gives my mind plenty to ponder, but arms me with topics for conversation and content for my writing.

Do the math

When I'm buying groceries, I channel my childhood talent for mathematics and tally my purchases in my head. This not only exercises my mind, but helps me to shop within my budget.

Memorise phone numbers

Personally, I do not save the mobile numbers of my friends – not because I don't want to, but because I enjoy memorising them. It's a great mental workout. However, I keep emergency numbers handy at all times.

Play with technology

Playing simple games on your phone helps to keep your brain activated. Word puzzles, Scrabble, Sudoku and even Chinese chess help to sharpen the mind.

Read and research a personal interest

Throughout the day, I set aside time to further my lifelong interest in health. To this end, I visit our public libraries a few times a week to avidly read the latest health magazines and books on health-related topics. I pride myself on staying abreast of nutrition and fitness trends, as well as breakthroughs in medical science that can prolong life. Of course the prospect of living longer is incentive to stay mentally young.

Learn something new

Medical science has proven that trying new things, such as learning a new language or mastering new technology, is an effective way to arrest mental ageing. From what I understand, it actually prompts the brain to create new neural pathways. As a boy, I had a flair for language and could remember the words used by the itinerant hawkers, regardless of their mother tongues. I am now contemplating learning a new language.
THINK YOUNG, BUT NOT TOO YOUNG!
Though I am told that I am in good shape for my age, I definitely feel the effects of ageing on my body more than on my mind. Last year, at the age of 81, I had a nasty fall that left me with a fractured wrist, cuts and bruises on my face and a dislodged dental crown. I had failed to be mindful of my biological age.
The moral of the story is – think young, but remember that your ageing body has its limitations. Work within those limitations, and work at pushing them further with good diet and regular exercise.
MIND OVER MATTER
In conclusion, I believe that the mind is master of the body. Think young and, in the absence of chronic disease or disability, you will feel younger and hopefully live longer and better.
Remember – what the mind thinks, within reason the body will do. Think young and be well.
The opinions expressed in this article are those of the author.
This article is taken from our My Alvernia Magazine Issue #41. Click here to read the issue on our website or on Magzter.