Hope should not be Rare
DESCRIPTION
Head over to the carnival to learn more about rare diseases and do your part for charity, brought to you by Mount Alvernia Hospital!
Learn more about rare diseases at the Mount Alvernia Hospital's community carnival in aid of the Rare Disease Fund at Punggol Town Square.
Join us in the Community Carnival Event in Support of Rare Disease Fund
In support of the Rare Disease Fund, Mount Alvernia Hospital is organising a community carnival to raise awareness of rare diseases and help raise funds for the Rare Disease Fund, a charity fund administered by the KKH Women's and Children's Hospital.
The event will be held at the Punggol Town Square on 3 November from 8.30am to 2pm, and graced by Guest-of-Honour Senior Minister of State for Law and Health, Mr Edwin Tong.
One of the event's activities include a mass tai chi session. To prepare for this session, our Tai Chi master has been faithfully conducting weekly tai chi classes for Mount Alvernia Hospital staff on Fridays from 5pm to 6pm.
We look forward to the pleasure of your company and generous support!
Programme List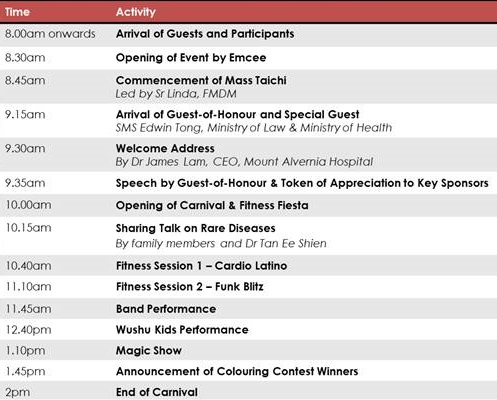 Main Sponsors
IDSMed, Weishen Industrial Services, FrieslandCampina
Supporting Sponsors
Amore Fitness, BigShot Photostudio, F&N Foods, Green Thumb X, ITS Science & Medical, Mumsclub, Nestle, Noel Gifts, OETEO, OGAWA, Pentel Singapore, Shimizu Corporation, Soon Landscape Supply, Umisushi, 3D Networks
Co-Partners
Community Chest, Punggol Coast
What are Rare Diseases?
A rare disease is one which affects fewer than one in 2,000 patients. There are many rare diseases that are fatal. The majority of rare diseases are genetic, directly caused by changes in genes or chromosomes that affect the body's ability to produce the enzymes or biochemicals needed for the body to function normally.
Rare diseases can affect individuals of all ages, but they are often diagnosed at birth or early childhood. Most conditions can be life-threatening without therapy. Approximately one-third of rare disease patients worldwide do not live beyond the age of five.
There are no treatments accessible for most rare diseases. But for a few, effective drug treatments are accessible which can replace the lacking enzymes or biochemicals. In such cases, with early treatment, patients' lifespans and fine of life will be significantly improved, permitting them to live highly regular lives.
The drug treatments have to be taken for the patients' entire lives and can be very costly. This places a huge financial burden on both patients and their families.
Facts on Rare Diseases
There are more than 7,000 rare diseases globally
80% of rare diseases have genetic origins and are present for the patient's entire life
Symptoms begin in infancy or childhood in 50% of rare diseases
Effective treatments are only available for about 5% of rare diseases
30% of children will die before their fifth birthday unless early treatment is given
Rare diseases affect more people than AIDS and cancer combined
Rare diseases are responsible for 35% of deaths in the first year of life.
Rare Diseases in Singapore
2,000-3,000 people are estimated to have a rare disease in Singapore Approximately 700 of them are children
Why Financial Assistance is Needed
Some medicines can cost each patient more than S$200,000 a year
Some people will need these medicines for life, which is a significant financial burden
Funding support will ease financial stress on patients and their families
Make a difference
With your donation, you can provide financial assistance for the costly medicines that patients will require to have the opportunity to lead a normal life.
All donations are welcome and never too small for the Rare Disease Fund. Your kind contribution will be a huge source of help and support to these patients as they fight those diseases.