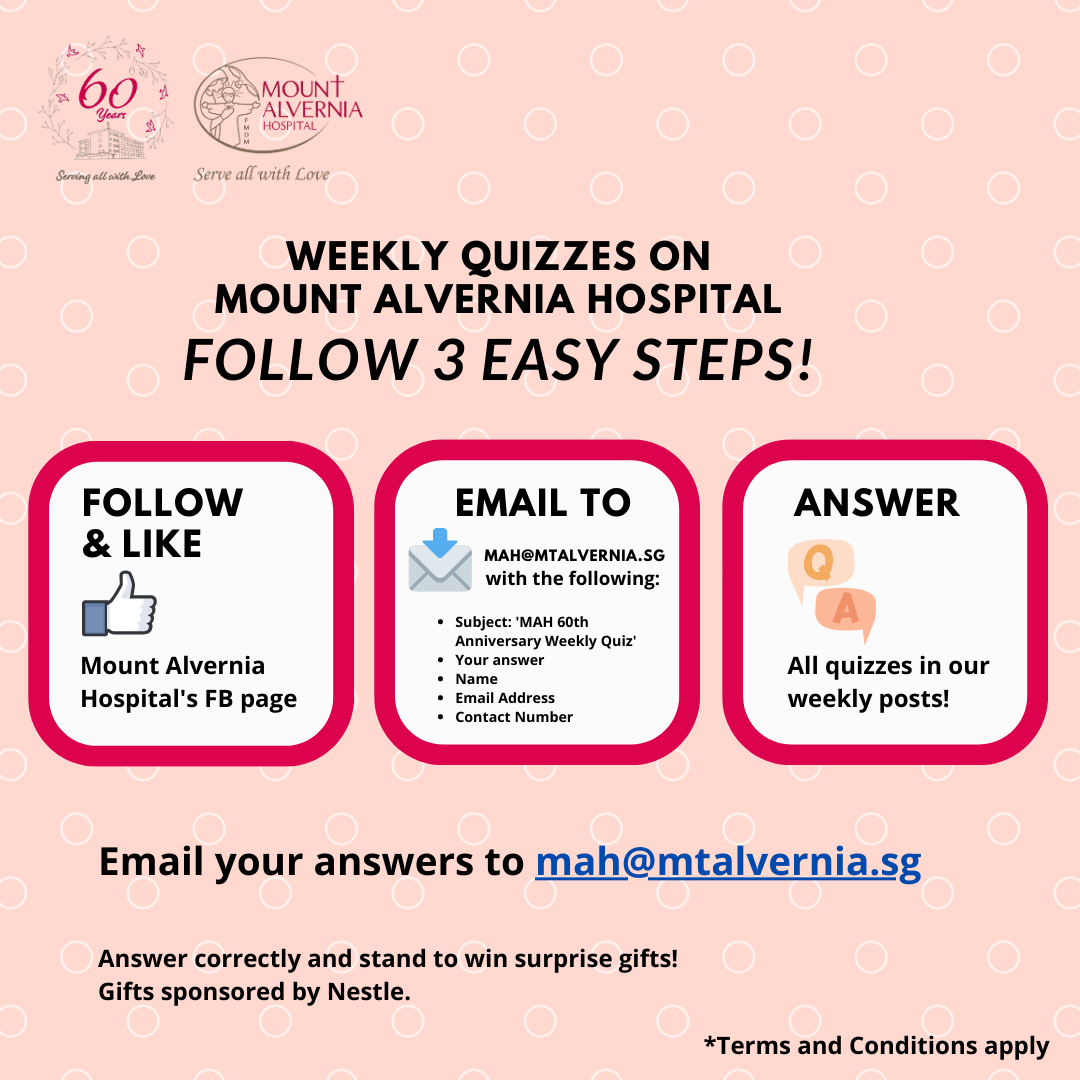 Set 4 of 4 Weekly Quizzes (Cutoff date: 31st March 2021)
Quiz 1: Mount Alvernia Hospital is currently building a new 10-storey Maternity and Paediatrics Centre set to open in 2022 to house which of the following:
(a. Maternity wards, b. Delivery wards, c. Paediatric wards, d. Neonatal Intensive Care Unit, e. Allied health and ancillary hospital services, f. All of the following)
Quiz 2: Also set to open in 2022, the new Integrated Cancer Centre will provide a holistic approach to cancer care by bringing together medical oncology, haematology and radiation oncology for Singaporeans in need of best-practice treatment.
True or False?
Hints for the questions are available at https://mtalvernia.sg/mah60/
Terms and Conditions
1) Management Team and Committee Members of MAH 60th Anniversary are not eligible to participate.
2) Mount Alvernia Hospital reserves the right to:
(i) cancel or amend the quizzes or Terms and Conditions at any time without prior notice
substitute the prizes with an alternative of equal or greater value (including where the prize is unavailable for any reason).
(ii) revoke the win and the corresponding prizes, in the event that the winner is deemed as disqualified e.g. incomplete winner details by deadline given & use of another's intellectual property. Mount Alvernia Hospital can then at its sole discretion, select another entry to win and award the corresponding prizes.
3) By submitting the quiz entries, each participant thereby:
(i) authorises Mount Alvernia Hospital to use and /or feature the winning on the media
(ii) is not hateful, threatening, or pornographic, incites violence or contain nudity or graphic or gratuitous violence
(iii) do not include any information that references other websites, addresses, email addresses, contact information or phone numbers;
(iv) do not contain any computer viruses, worms or other potentially damaging computer programmes or files;

4) The prizes (or any part of them) are not transferable and cannot be exchanged or redeemed for cash.
5) Winners will be notified by email or phone.