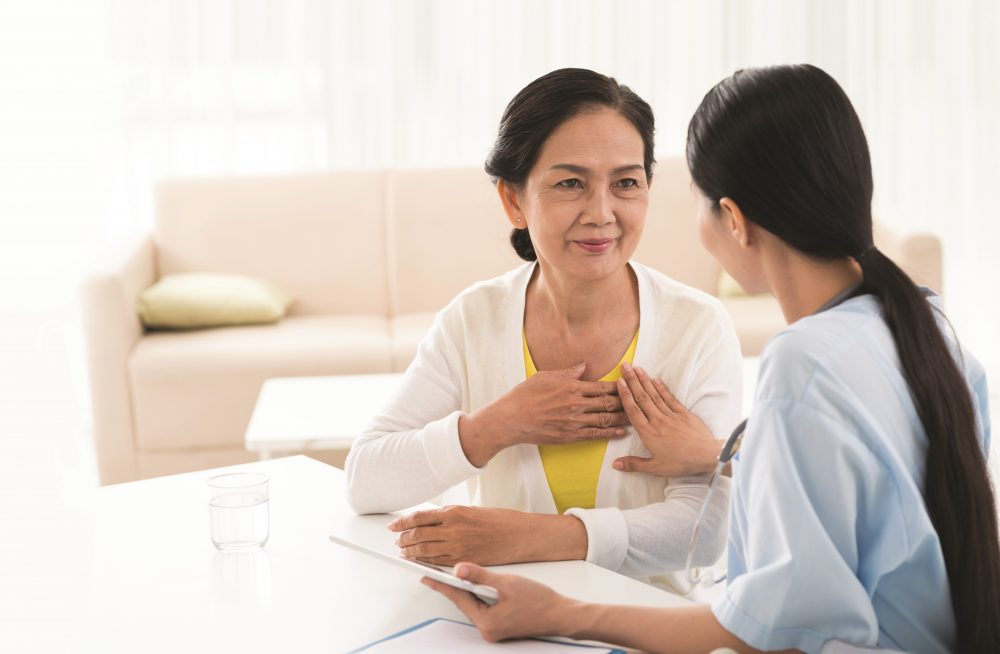 Computed Tomography (CT) scans may not be a new technology, but a new technique called CT Myocardial Perfusion which allows for a more detailed diagnosis of heart diseases with less stress on patients has been developed. We learn more from Dr Ho Kheng Thye, senior consultant cardiologist, Heart Consultants Pte Ltd.
TAKING A CLOSER LOOK AT HEART DISEASE
Since 2005, CT scans have been used widely by medical professionals to take pictures of blood vessels to determine the presence of blockages. However, the correlation between the presence of cholesterol plaques in the vessels does not necessarily translate to causing a reduction in blood flow.
Senior consultant cardiologist and chairman of Mount Alvernia Medical Board, Dr Ho Kheng Thye explained, "The easiest way of thinking [about it] is that you look at the drain pipe of your sink. When you move into a brand-new house, the drain pipe is completely clean, water flows out fine. After you have lived in the same house for 40 years, when you open up your drain pipe, there's a lot of muck on the side, but it does not mean that water cannot flow."
"It only gets into trouble if it is more than a certain critical level of blockage and the flow becomes restricted," he adds.
CT Myocardial Perfusion adds to CT imaging in cardiology as the technique can both capture the image of blood vessels and measure blood flow within one test – something that other tests like nuclear tests or Positron Emission Tomography (PET) scans are unable to do.
Understanding the severity of blockages is crucial in determining the treatment needed. Minor deposits of cholesterol which do not affect blood flow, can be treated with medical therapy alone whereas major build-up of cholesterol will warrant angioplasty procedures such as stenting and ballooning.
Also, unlike most investigations that require patients to undergo exercise stress, like running on the treadmill, the new technique uses medications that will dilate the blood vessels, creating the same effect without exercising the patient.
"This is a pharmacologic stress test, which is very useful if the patient is not fit to exercise," added Dr Ho, noting that some patients, due to age or disabilities, may not be able to perform stress tests which usually involves exercise.
CT Myocardial Perfusion, therefore, helps doctors to finetune their diagnosis and administer the most suitable treatment for patients – the main motivation behind Dr Ho's push for the new technique.
He expresses that in medicine "there's always this concept of doing the right test for the right patient."
So early this year, Dr Ho carried out at Mount Alvernia Hospital, the new technique in clinical service, making Singapore amongst the first countries in the world to adopt CT Myocardial Perfusion.
YEARS OF STUDIES AND EXPERTISE
But, being new is not equal to being untested. Although CT Myocardial Perfusion was implemented in Mount Alvernia Hospital only six months ago, the research behind the technique has been conducted since 2010, says Dr Ho.
The adoption of a new technology and procedure in the medical field has been very conservative. Robust research is needed before anything new can be rolled out to the public. The adoption of CT Myocardial Perfusion is no exception.
Dr Ho has been actively involved in its development and research since 2009. He has published two papers on the subject – the Journal of The American College of Cardiology in 2010 and the European Heart Journal in 2014 – and ensured that the results from the tests conducted are reproducible before implementing it as a clinical service. "The technology must be robust enough. It cannot be an experimental technique" insisted Dr Ho.
Talks about the CT Myocardial Perfusion technique have ramped up recently in the cardiology field. Cardiology centres around the world, such as the American-based Society of Cardiovascular Computed Tomography, and Beijing Fuwai Cardiovascular Institute and Hospital (BFCIH), are interested to find out more about the new cardio-imaging technique. BFCIH in particular has invited Dr Ho to give talks on the subject.
According to him, what puts Singapore ahead of other countries in the adoption of CT Myocardial Perfusion is the necessary expertise and equipment.
"It's a very technical subject and you must understand how it works and you must know how to use the scanner as there are many meticulous technical steps," says Dr Ho.
Dr Ho adds that although some institutions have the equipment to run tests, they may not possess the technical know-how to conduct it efficiently and accurately. As a clinical service, Dr Ho says, patients must be able to go "in and out" in one hour instead of sitting through a five-hour procedure because of medical staff are unfamiliar with the technique. That is why Dr Ho often supervises or runs the tests personally.
THE REASSURANCE YOUR HEART NEEDS
While the ability to save costs in the medical field is contextual, Dr Ho says that CT Myocardial Perfusion could be considered a more cost-effective test compared to an alternative testing approach. Traditionally, this might be a combination of both CT coronary angiography and nuclear or PET studies to generate both anatomical and functional information.
With just this one test, doctors can get a lot more information pertaining to the blood vessels and blood flow which can be used to diagnose, plan for treatment, and predict whether an illness might occur. So, patients can avoid spending on unnecessary and expensive treatments.
"…it serves as a gatekeeper to other more expensive technologies," reveals Dr Ho.
CT Myocardial Perfusion could be beneficial for hospitals and medical professionals as well. According to Dr Ho, cardiologists are often "obsessed" with the question: "When is a blockage relevant?"
With this new technology, doctors have an additional method of stress imaging. In some cases, patients may not exhibit classic symptoms of heart disease which may raise doubts on whether the patient has a heart disease or not. Dr Ho says that adding CT Myocardial Perfusion scan results help to clarify the significance of narrowing seen on their CT coronary angiogram, without the patient going for invasive angiography, and may also save cost.
"You want the proof to justify that you need to do something," says Dr Ho.
A strong advocate for the new cardiac-imaging technique, Dr Ho says that while no other hospital in Singapore has the expertise to run the tests now, the necessary knowledge and technical skills are possible to cultivate. Dr Ho continues to share the knowledge and information with other medical professionals through conferences and seminars.
On top of that, Dr Ho is looking to continue improving the CT Myocardial Perfusion service. The hospital acquiring a new CT scan machine to complement the existing machines. This scanner is the most advanced and able to produce clearer images with lower radiation.
"This is an example of how medical technology can be appropriately utilised to benefit patients," he adds.
Article contributed by Dr Ho Kheng Thye, an accredited doctor of Mount Alvernia Hospital.
This article is taken from our My Alvernia Magazine Issue #31. Click here to read the issue on our website or on Magzter.