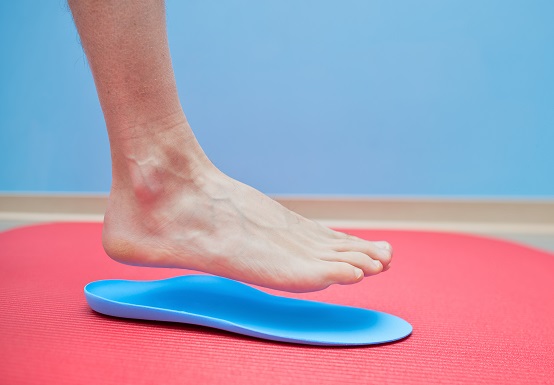 Orthotics, customised shoe inserts designed to correct foot problems, can help with common
conditions such as plantar fasciitis, bursitis and arthritis. Here's a quick lowdown.
ORTHOTICS VS. INSERTS
Orthotics are prescription medical devices that are customised for your foot, while shoe inserts are over-the-counter purchases. Both provide extra cushioning and/or support for the foot. While inserts can certainly help some people, those with more serious biomechanical problems stand to gain greater benefits with orthotics.
If you are experiencing foot, leg or back pain, you should consult a podiatrist to see whether orthotics could help. If you decide to try them, your podiatrist will study your gait and take 3D images and a detailed mould of your foot or feet, which will form the blueprint for your orthotics.
RIGID VS. SOFT ORTHOTICS
Orthotics fall into two main types – rigid and soft. In addition, ankle foot orthotics extend beyond the foot and up the leg to assist with stability and mobility.
Rigid orthotics
also known as functional orthotics
made from hard materials like plastic or carbon fibre that provide support
work best in shoes with closed toes and low heels
ease foot aches and strains, and sometimes associated leg and back pain
Soft orthotics
also known as accommodative orthotics
made from soft compression materials that provide cushioning
may need to be worn with prescription footwear to accommodate their bulk
relieve pressure from sore and painful spots from conditions like plantar fasciitis or diabetic foot ulcers
Ankle foot orthotics
shoe inserts with a portion that extends from the heel upwards and around the calf
worn with a smooth long sock to prevent skin irritation
improve walking patterns by limiting movement and supporting weak muscles
often prescribed for children with cerebral palsy and patients with gait abnormalities
Orthotics Can Help with…
Arthritis
Back pain
Bunions
Bursitis
Cerebral palsy
Diabetes
Flatfeet
Hammer toes
Heel spurs
High arches
Plantar fasciitis
SKILL, SCRIPT, FIT AND FREQUENCY
The success rate of wearing orthotics depends on:
the skill of the orthotist, the professional technician who makes them
the accuracy of the prescription
the fit of the shoe that is worn with them
the frequency with which they are worn
The message is clear. If you have been prescribed orthotics, make sure they fit well, wear them regularly, and your foot, leg and back problems should be eased if not solved.
REFERENCES
https://www.webmd.com/pain-management/what-are-shoe-orthotics#1
https://www.healthline.com/health/bone-health/orthotics
This article is taken from our My Alvernia Magazine Issue #42/43. Click here to read the issue on our website or on Magzter.