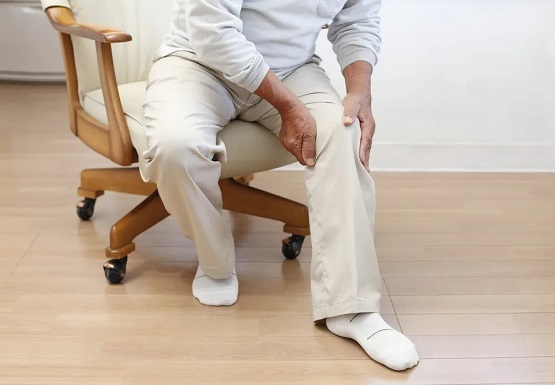 Every year, well over a million hip and knee replacements take place worldwide. We spoke to Dr Francis Wong, Specialist Orthopaedic Surgeon from Orthopaedics International, about these increasingly common, highly effective and potentially life-transforming procedures.
THE WHY
Knee and hip replacement surgery is generally considered after nonsurgical forms of pain relief and physical therapy have failed. The joint replacements can be partial or total.
"The usual reasons for joint replacements are mainly related to pain and instability of the joints," said Dr Wong. "Common causes include osteoarthritis and rheumatoid arthritis. Wear and tear may be accelerated by previous injuries including dislocation fracture or infection. Avascular necrosis, or bone death, which has various causes, may also result in the need for a joint replacement surgery."
THE HOW
In most knee replacemen surgeries, the surfaces of the knee are removed and replaced, while much of the bone is preserved. In nearly all hip replacement surgeries, the head and neck of the femur are completely removed and substituted with a prosthesis that resembles a ball and a socket.
"Both knee and hip replacement surgeries are considered major operations and carry very similar risks. If performed by a competent surgeon, the risks of either surgery are more or less the same," said Dr Wong.
Though smaller, the knee is a much more complex joint than the hip. Hence, the recovery time for hip replacement surgery is generally shorter than that of the knee.
"Hip replacement patients typically walk well within three weeks after their surgery. Knee replacement patients on average take around two weeks to walk reasonably well and become independent, requiring no walking aids at around one month after their surgery," shared Dr Wong.
Possible complications from both knee and hip replacement surgeries include infection and deep vein thrombosis. However, prophylactic antibiotics and sterile techniques minimise the chances of an infection. Pain and stiffness after surgery are common problems, but can be greatly improved with physiotherapy.
THE WHEN
Most knee and hip replacements are performed on patients aged between 50 and 80. Age is not considered a major deterrent, and some patients undergo successful joint replacements even in their 90s. Occasionally, younger people in their 20s and 30s also need joint replacements, mainly due to sports injuries.
A patient may be deemed unsuitable for a joint replacement surgery if the joint is infected. Other contraindications include poor cardiac or respiratory status. In addition, diabetes, hypertension or a recent stroke may require postponement of the surgery until the diseases are controlled.
THE REHAB
The importance of rehabilitation after joint replacement surgery cannot be overstated. To reap the full benefits of joint replacement surgery, patients must actively participate in their own healing process.
Alicia Teng, Senior Physiotherapist at Mount Alvernia Hospital's Rehabilitation Centre, explained that rehabilitation, or physical therapy, usually begins on the first day after the patient's surgery and continues for two to three months. During the patient's stay in hospital, rehabilitation focuses on ambulation (walking) practice with different walking aids, including navigating stairs, combined with pain relief treatment from ice packs and hot packs.
After discharge, rehabilitation aims to reduce pain, ease swelling and inflammation, improve mobility and build strength. The ultimate aim is to get the patient walking and performing everyday tasks with ease.
THE BENEFITS
After surgery, patients can expect to feel dramatically reduced pain in the affected joint. They will also benefit from increased stability and strength in the operated joint, giving rise to greater confidence and independence and a much improved quality of life.
Many patients who had not been able to exercise prior to their joint replacement surgery are able to do low-impact exercises such as walking, cycling and swimming. The long-term benefits on their physical and emotional wellness are vast and varied. These range from weight loss to improved social connectedness, especially among older patients who are able to get out and about with their newfound mobility and independence.
THE FUTURE
Currently, major advances are in the field of computer-aided surgery, which greatly improves the accuracy of bone cuts. This is especially so with knee replacements, as it helps optimise soft tissue balance in the repaired or replacement knee joint.
In addition, patient-specific instrumentation and customised implants are also being developed and some are in fact already in use.
Thanks to these and other ongoing advances in knee and hip replacement surgery, growing older no longer has to mean living with joint pain.
SOURCES
https://www.health.harvard.edu
Article contributed by Dr Francis Wong, accredited doctor at Mount Alvernia Hospital.
Specialist Orthopaedic Surgeon
Orthopaedics International
Medical Centre D #08-61
This article is taken from our MyAlvernia Magazine Issue #38. Click here to read the issue on our website or on Magzter.