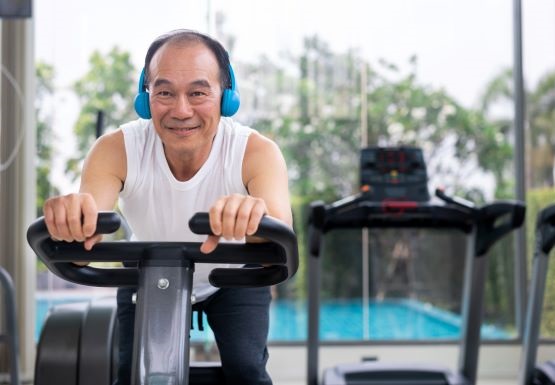 Dr Chan King Ming, Geriatrician, Mount Alvernia Hospital, and Ng Lih Wing, Senior Physiotherapist at the hospital's Rehabilitation Centre, share compelling reasons why you should hit the gym when you hit 65 and beyond. In fact, now is a great time to start burning those festive calories and adopt a healthy habit that continues all year long.
WHY SHOULD THE ELDERLY GO TO THE GYM?
According to Dr Chan, regular gym-going promotes all-round improved health and well being.
"Physically, improved muscle strength translates to an older person being able to do things and carry things with greater ease in everyday life. They also feel and look better, tire less easily and have an overall sense of well being," said Dr Chan. "A better sense of mobility and balance also results in fewer falls and therefore, fewer injuries."
Regular exercise at a gym also means that an older person is more socially active. Going to the gym is a good 'excuse' to revive an old friendship, and a great opportunity to form new ones. In turn, social connectivity generally increases happiness and satisfaction with life, which reduces the risk of depression.
"Physical activities are also associated with an improvement in cognitive function and regular gym activities over a long period also reduce the risk of dementia," added Dr Chan.
WHO BENEFITS MOST?
According to Dr Chan, seniors who suffer from mild arthritis can benefit considerably from gym-based exercise. By strengthening the muscles around the arthritic joint, the joint can be protected and the progression of pain arrested. However, he cautioned that the exercise should be gentle enough not to cause further damage to the already sore or painful joint.
In addition, the pre-frail and frail elderly who are not very active or mobile, or whose muscles have become deconditioned from lack of use, will experience significant gains in their overall well-being and confidence. "The other groups who stand to benefit the most from gym-based experience are the 'fallers' – a term we use to describe the elderly who have the tendency to fall because of lower limb weakness or poor sense of balance," shared Dr Chan.
WHAT MAKES A GYM ELDERLY-FRIENDLY?
While a savvy older gym-goer can navigate a regular gym, not every older person has the knowledge necessary to do so without risking injury. Fortunately, there is a growing number of personal trainers with specialised expertise in training older people, and a new crop of gyms that are specially equipped for the safety and comfort of older gym-goers.
"In general, elderly-friendly gyms should have smaller weight/resistance increments built into their exercise equipment," shared Lih Wing.
SAFETY CONSIDERATIONS
Both Lih Wing and Dr Chan pointed out that elderly-friendly gym equipment should employ cable resistance, hydraulic or pneumatic systems instead of high-resistance stacked weights. Then, in the event that the older person loses their grip, the weights or cross bars will not come crashing on them and risk causing injury. Ideally, machines should come with back support, arm rest support and special features like rotating seats that enable elderly users to move on and off the equipment with ease.
"The gym should include elderly-friendly balancing equipment such as the Bosu ball, soft standing foam, and steps for balance training, together with a range of equipment that facilitates 'light' and 'big' movements to exercise the joints through their available range of motion," added Lih Wing. Safety and accessibility are also key factors in making a gym 'elderly-friendly'.
"The placement of equipment is important. It should be reasonably spaced out, with rest stations close by," advised Dr Chan. "The environment should be bright enough for the elderly person to see, but not glaring. Even the background music should cater to older users' tastes."
Dr Chan added that instructions should be clearly legible, with the option of audio instructions. Ideally, the equipment's settings should be customisable to suit the individual, and their settings recalled through a memory function or via a smart card.
Dr Chan also supports the idea of gym exclusively for the elderly.
"An 'elderly only' membership helps make the older gym-goers feel comfortable and not rushed," said Dr Chan. "It should also be affordable to encourage the elderly to join the gym."
EXERCISE DO'S AND DON'TS
Since fitness levels vary wildly among seniors, there is no fixed list of do's and don'ts. However, there are a set of general guidelines for elderly gym-goers. First and foremost, Dr Chan urges seniors to have their health and physical fitness assessed before joining a gym. "Some of the elderly may have a heart condition or a joint or back problem that they may not even know about. As such, some exercises could be harmful to their pre-existing condition," explained Dr Chan. "In general, gyms are suitable for older people with a stable heart and lung condition, whose joints are generally supple and, at most, suffer from only mild arthritis and who are pre-frail or frail due to inactivity."
For strength building, Dr Chan recommends resistance exercises like weights and resistance bands. For stamina building, he suggests brisk walking or jogging on a treadmill, cycling exercises and stepping. He also recommends tai chi and yoga for improving balance, but cautions that balance exercises should always be done under the supervision of a trainer.
In terms of actual equipment, Lih Wing recommends the following machines for elderly users: upper and lower extremities ergometer, leg press, elliptical trainer and hip rotatory trainer for strengthening and fitness. She recommends the chair stand and step climber for functional training, static and dynamic balance training and reaction time training for overall balance. "In general, high-speed and high-impact equipment, such as the trampoline, should be avoided," advised Lih Wing.
THE BENEFITS OF A GYM BUDDY
Both Dr Chan and Lih Wing agree – going to the gym is better with a friend. "Studies have shown that exercise should be done with a 'buddy' or friends to be sustainable. While we exercise and chat at the same time or in between each set of exercises, we tend to be able to exercise longer and yet perceive that we are exerting ourselves much less. This is the 'distraction hypothesis' in exercise physiology," said Dr Chan, deferring to science to explain the benefits of exercising with company.
"Patients who exercise with a gym buddy have better exercise compliance, that is, they are more likely to stick to the exercise programme. They provide a source of emotional support and motivation for each other," said Lih Wing, drawing on first-hand experience.
FRIENDSHIPS EXTEND BEYOND THE GYM
Of course, friendships made in the gym are not confined to the gym. Janice Chia, the founder of ASPIRE55 – Asia's first virtual retirement village, shared that many of her senior members have fostered new friendships that extend beyond the gym. After their gym sessions, they go out for meals together and invite each other to social gatherings. In addition, they sign up for external group activities.
"One of our aims is to increase social engagement amongst our older adults. Our members have been actively participating in our physical activities outside the clubhouse such as nature reserve walks, hiking trails, Taiko drumming, archery, dragon boating and rock climbing. During our Okinawa holiday, the group went caving and trail hiking too. In September, a group visited Nepal for a hiking trip to Poon Hill summit," shared Janice.
Improved fitness, acquired in the gym, emboldens older people to embark on physical adventures, from travel to sports, including a 5km race at the Standard Chartered Marathon 2019 that they may never have experienced even in their younger years.
CHOOSING AN ELDERLY-FRIENDLY GYM IN SINGAPORE
The good news is, seniors in search of an elderly-friendly gym in Singapore have more choices than ever.
The first of the crop of clubhouses with elderly-friendly gyms opened in 2014 in the ASPIRE55 clubhouse at Commonwealth Lane, followed by a second clubhouse at Waterloo Street. Both facilities are equipped with pneumatic machines imported from Finland, and boast a back-end system that enables the trainers to customise the strength training programme according to the level of the user's fitness or physical capability level.
Just last year, plans were announced by the government to build more gyms catering to the elderly and disabled in mature Housing Development Board (HDB) estates. The first gym opened in Ang Mo Kio Community Centre in July this year. More elderly-friendly gyms are slated to open at Senja-Cashew, Fernvale and Pek Kio.
In addition, more organisations are offering elder-friendly exercise programmes. The Lien Foundation's Gym Tonic is a strength-training programme that uses pneumatic machines for core strengthening and taps on software to track users' progress. Seniors can join the programme at the Active SG Gym @ Our Tampines Hub and the Methodist Welfare Services Senior Activity Centre in Fernvale.
STAY FIT FOR LIFE
If you're getting on in years, get the green light from your doctor and join a gym or an exercise class. Better still, bring a friend. Get fit and stay fit – for life!
Article contributed by Dr Chan King Ming, accredited doctor at Mount Alvernia Hospital.
This article is taken from our MyAlvernia Magazine Issue #39. Click here to read the issue on our website or on Magzter.