Located on Level 6 and 7 of St Anne Mother & Child Centre, our St Nicholas and St Gabriel wards have single and double rooms. The rooms are designed to make every child as comfortable as possible in a friendly environment. It is painted with soothing colours with a wall panel covered in wallpaper by Art Faculty, so that the sick child feels fresh and lively.
The modular walls absorb environmental sounds so that your child can have better rest.
Parents have unrestricted access to their children while their child is in the children's ward. However, due to space we can encourage only one parent to stay overnight if necessary.
SINGLE ROOM
The single room provides a secure, relaxed and cosy environment so that the child can feel safe leaving their home to stay in the hospital. There is child-scaled furniture in the room, sufficient storage areas for your child's belongings.
Drawings by special needs students adorn the walls.
Your children are encouraged to wear their own clothes and to decorate their rooms with cherished stuffed animals, toys and personal possessions.
In addition to being child friendly, the ward also caters to parents with a built-in comfortable sleeping arrangement. Families have open access visiting all day until 8:00pm.
All single rooms have an ensuite toilet, a sofa for one of the parents who may like to stay overnight to accompany the child. A companion fee with meals included will be charged if both parents wish to accompany the child.
Single Room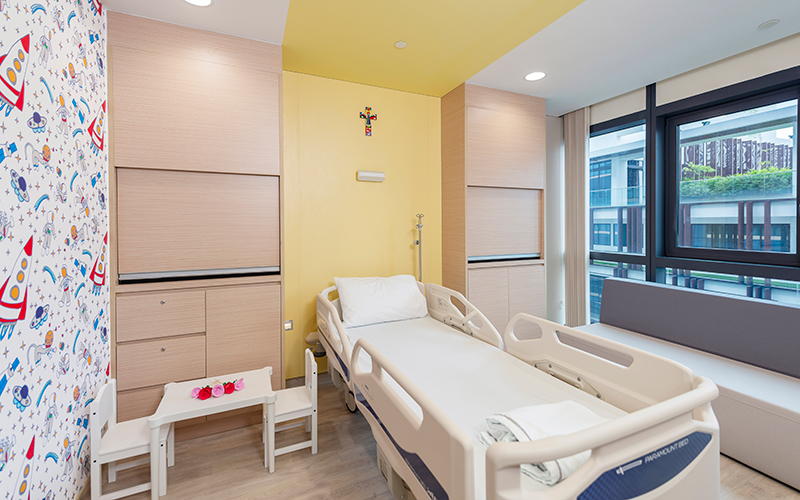 DOUBLE ROOM
These rooms allow for cost-effective sharing of the room and amenities without reducing the personal space for the child and parent. They are still able to enjoy the much-needed privacy and rest. Parents have the option to stay overnight if their children are under the age of 12.
Double Room