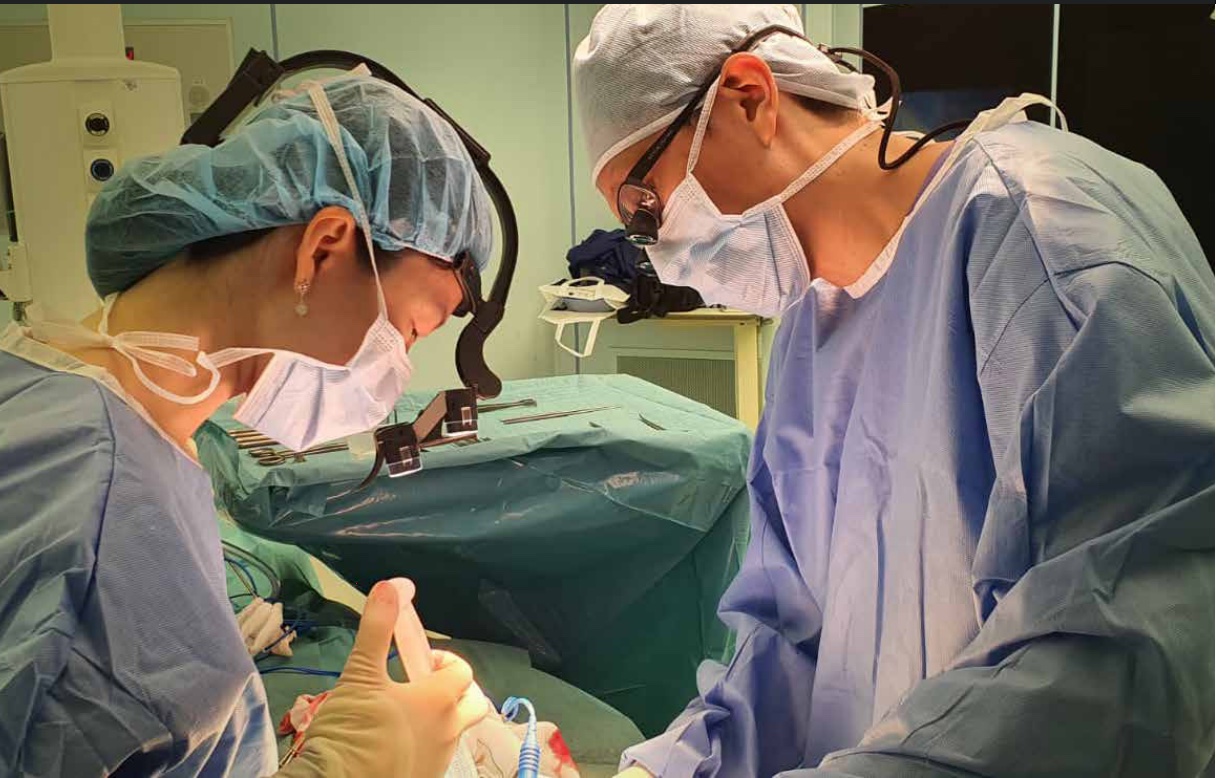 We were all ears during a conversation with husband and wife otorhinolaryngologists, aka ear, nose and
throat (ENT) specialists, Dr Dawn Teo and Dr Ng Yuk Hui, colleagues at The Children's ENT Centre and
The ENT Specialist Centre.
My Alvernia: How, when and where did you two meet?
Dr Ng: We met near the end of our registrar training. We were one year apart in training but as there were few trainees in each year, we were often posted to the same department. I suppose in the midst of the hustle and bustle of work, we both found a common ground for our relationship to grow.
My Alvernia: How long have you been
married?
Dr Teo: It's been more than 10 years now. We have two children, who are both in primary school.
My Alvernia: What attracted you to the specialty of ENT?
Dr Teo and Dr Ng: Four out of our five human senses involve ENT systems.
It forms an important part of our daily interactions and contributes greatly to our quality of life, from the fragrance of a flower to the song of a bird singing, all these simple pleasures require a well functioning ENT system to be appreciated. The ENT specialty is also a multifaceted and diverse discipline encompassing both medical and surgical aspects. The surgeries are diverse involving open surgery, endoscopic surgery and microscopic surgery.
It was also a relatively new field at the time, with many new developments and
innovations.
My Alvernia: Within the field of ENT, do you each have separate or common areas of interest?
Dr Ng: I specialise in rhinology, allergies and skull base surgeries. My subspecialty interests are in endoscopic sinus surgery as well as skull base surgery. I work with a neurosurgeon to perform minimally invasive surgery of the pituitary and parts of the brain. I also have an interest in the management of nasal allergies.
Dr Teo: I specialise in paediatric ENT.
My Alvernia: Do you ever collaborate on cases or provide second opinions for each other?
Dr Teo and Dr Ng: We do collaborate on more complex cases. It is often useful to have a second pair of eyes or an opinion on a more challenging problem. Our subspecialties often overlap and we may collaborate to ensure better patient outcomes.
An example of a recent case would be that of a 6-month-old child who presented with severe nasal obstruction due to an encephalocoele (brain tissue within the nose presenting a large nasal mass). A combined approach involving paediatric ENT, a rhinologist, a neurosurgeon and a paediatrician was needed in the management of the child.
My Alvernia: What are the common conditions that you see among your young patients at The Children's ENT Centre?
Dr Teo: Common ENT conditions seen in children are snoring and obstructive sleep apnoea, nasal allergies, nose bleeds and ear conditions like ear infections and impaired hearing with speech delay. Parents are now more aware of the potential issues of snoring in children, which can lead to poor growth and development as well as behavioural issues and poor performance at school. This problem is further aggravated by the growing prevalence of obesity in children.
My Alvernia: What are the common conditions that you see among your older patients at The Specialist ENT Centre?
Dr Ng: We treat sinusitis and nasal allergies, mostly. Air quality is often an issue in modern cities. In Singapore, urban pollution is further aggravated by the seasonal haze. In our modern society we also spend a large proportion of our time in enclosed air-conditioned environments. This explains why we see quite a few patients with nasal symptoms ranging from allergies to chronic sinusitis.
My Alvernia: Has there been an important breakthrough in the treatment of ENT conditions?
Dr Teo and Dr Ng: The major development has been the use of scopes within the nasal cavity, ear and even salivary ducts to allow minimally invasive surgeries. The latest scopes can be smaller than 1 millimetre in diameter. Sinus surgery is now a simple surgery with good outcomes and quick recovery times. In the case of sialendoscopy, obstructions in the salivary glands can now be addressed using minimally invasive scopes instead or having to perform surgery to remove the entire gland.
My Alvernia: Obstructive sleep apnoea (OSA) affects many Singaporeans, especially males. Why is this so, and when should treatment be sought?
Dr Ng: As a society becomes more prosperous, we deal with more lifestyle-related illnesses like obesity. OSA is associated with obesity, which is more prevalent in males. Furthermore, due to the stressors of modern-day living, people tend to feel some of the effects of OSA, such as daytime sleepiness, lethargy and headaches, more acutely.
OSA is also associated with many of our modern-day chronic illnesses. Untreated OSA is associated with a higher risk of cardiac problems like high blood pressure, heart attacks and stroke.As Dawn mentioned, the condition can also affect young children and impact their neurological development. It often presents with poor attention span, hyperactivity and other behavioural issues. It is important to identify these early, since early treatment has been shown to reverse the adverse outcomes associated with OSA. In general, early treatment should be sought if patients present with symptoms like snoring, nasal congestion, heavy breathing and mouth breathing.
My Alvernia: Are there any other ENT conditions you treat that are especially prevalent in Singapore?
Dr Ng: Allergic rhinitis and nasopharyngeal carcinoma or nose cancer is much more common in this part of the world compared to western countries.
My Alvernia: What is the most rewarding or fulfilling aspect of your work as ENT specialists?
Dr Teo: With children, the successful treatment of OSA, which usually involves a simple procedure called adenotonsillectomy, is especially rewarding. I often have parents tell me that they have 'a whole new different child'. When children sleep well, their mood is so much better in the day, and they are better able to focus in school and on tasks.
Another condition is middle ear infections and glue ear which often cause impaired hearing, leading to delayed speech in children. A simple procedure to drain the middle ear fluid often restores hearing, and parents often observe a significant improvement in speech and response of the child.
Dr Teo and Dr Ng: Our greatest reward is to see our patients get better.
My Alvernia: Our ears, noses and throats are so important to our quality of life. Keep your eyes open for early warning signs of problems, and know that you are in safe hands with this dedicated couple of ENT specialists. Thank you, Dr Teo and Dr Ng.
This article is taken from our My Alvernia Magazine Issue #45. Click here to read the issue on our website.