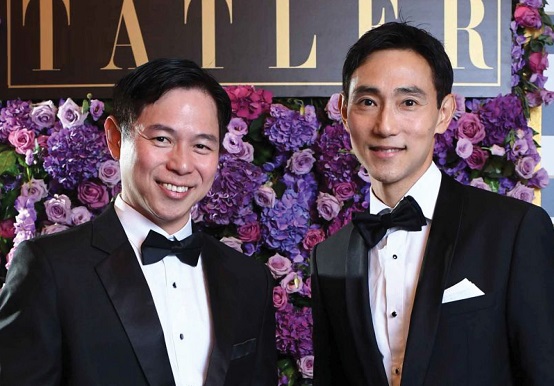 We had the pleasure of chatting with brothers Dr Julian Theng, Founder, Group Chairman and Ophthalmologist at Eagle Eye Centre, and Dr Colin Theng, Senior Consultant Dermatologist at The Skin Specialists & Laser Clinic. We learned how they are bonded by medicine, faith and family ties.
My Alvernia:Who is the older brother?
Colin:There are four siblings in the family. Our eldest brother Danny works in IT, and our elder sister Lisa works as a lawyer and managing partner at a law firm. Then comes Julian and then me, the youngest. We are all one year apart in age.
My Alvernia:Are you similar or different to each other?
Colin:I think we are quite different. Julian is a dreamer and more of a risk-taker, while I am more cautious. However, we are similar in that we are both kind at heart, and committed to work and family.
Julian:I agree with Colin in that we do have different styles. But what drives us both is the strength of our faith. Whatever our faith prompts us to do, we pursue it to the very best of our ability.
My Alvernia:What inspired you to pursue careers in medicine?
Colin:As a child, I felt that medicine was a noble profession. I think this was partly influenced by my parents who had always wanted us to be doctors. I was quite single-minded in wanting to do medicine, and when Julian got into medicine first, he supported my choice. I have no regrets.
Julian:As Colin said, our parents' desire for us to be doctors was a driving force. Aside from that, my parents had me take care of our grandmother when I was young. Administering her insulin jabs every morning was my early training in the medical field.
My Alvernia:Can you share the story of a particularly memorable case?
Colin:One of my most memorable patients was a lovely lady who came to see me because of her severe psoriasis, a chronic skin condition. She was very depressed and wanted to separate from her husband because she felt unworthy of him. Her unsightly appearance had affected her self-esteem. With treatment, her skin cleared up completely and when she saw me in the clinic again, she looked radiant and said her life was back to normal and her marriage had been saved. It really made my day, knowing that we can make a big difference in our patients' lives.
Julian:There are so many memorable patients, but one that stands out in particular is Singapore celebrity actor Edmond Chen. About 10 years after his first visit to my clinic, he came to see me about his son who had been blinded by an infection of the cornea that caused a very bad scar. He had already consulted numerous doctors, and hear about the pros and cons and risks of cornea transplantation in his son's eye. Because of the high risks involved, he had been procrastinating about whether or not to have the transplant done for his son.
I believe he was trying me out as a doctor when he recommended his mother for cataract surgery. Subsequently, he recommended his sister, for whom I performed refractive surgery.
After these successful surgeries, his confidence grew. Finally, after six years of waiting, he allowed me to be his son's cornea transplant surgeon. It has been close to 10 years now since the surgery was done here at Mount Alvernia Hospital. It went well, as I managed to restore his son's vision. I've also done Lasik for his other eye and now he enjoys 6/6 vision. They've been very grateful patients, and we have become good friends. It was a wonderful outcome.
My Alvernia:Are your spouses and children in medicine and healthcare too?
Julian:My wife was a teacher, but stopped teaching when our second child was born. My kids were at one point in time interested in medicine but now they have grown up, they have focused on their other passions like music, arts and business.
Colin:My wife is a doctor too, and used to work as a GP. My daughter is currently studying medicine in Dublin.
My Alvernia: Was it by design or coincidence that you both ended up in private practice at Mount Alvernia Hospital?
Colin:Julian enjoyed working at Mount Alvernia Hospital and loved the working environment there. So, when the opportunity arose, I set up my private practice there as well. I especially like the hospital's Catholic culture and its wonderful staff.
Julian:I encouraged Colin to join Mount Alvernia Hospital partly because I felt that the hospital's mission and vision are similar to those of Eagle Eye Centre – to serve with love and compassion.
My Alvernia:What attracted you to your respective specialties of dermatology and ophthalmology?
Colin:I think dermatology is interesting because it is very visual. Often, you can diagnose the skin condition by just looking at it without having to do lab tests and imaging studies. Dermatology is also quite diverse – we treat skin, hair and nail diseases, sexually transmitted infections, do skin surgeries and laser treatments, and aesthetic procedures too. This makes our work very challenging and enjoyable. When I did a rotation as a medical officer at the National Skin Centre, I really enjoyed dermatology and so I decided to become a dermatologist.
Julian:I chose ophthalmology as a specialty only after I had an attachment as a medical officer at the eye department at Singapore National Eye Centre. It was quite an 'eye opener' for me. I realised how rewarding a profession it is, because it really makes the blind see. Seeing the joy on the faces of so many patients immediately after their lifechanging Lasik experiences made me say – this is the job for me!
My Alvernia:Are eye conditions ever related to skin conditions and vice versa? And have you ever collaborated on crossover cases?
Colin:Yes, there are conditions that have both eye and skin symptoms, and we have collaborated on some before. I remember Julian referring me a case of a patient who had red eyes with skin rashes and was found to have an underlying autoimmune disease.
My Alvernia:What is the most common condition that you see in your respective practices?
Julian:Cataract and Lasik surgeries are the main volume of work that I do, as well as cornea transplantation. The high prevalence of ophthalmic disorders in Southeast Asia and Singapore is primarily due to the rise in the ageing population. For example, about 48 percent of people in Southeast Asia are affected by cataract and this figure is expected to rise gradually.
Colin:In my clinic, the most common skin condition I see is eczema. This is also the most common condition seen at the National Skin Centre. In Singapore, eczema is a very common skin condition that affects up to 20 percent of the population. Eczema rates tend to be higher in more developed countries, which may explain why there are so many cases in Singapore.
My Alvernia:What is the most significant development or breakthrough in each of your respective fields in the last 10 years, and in the last 2 years?
Colin:In the last 10 years, there have been many advances in dermatology treatments, especially for psoriasis. These new treatments include biologics treatments, whereby antibodies are injected into the body to bind to specific treatment targets.
The numerous new biologics for the treatment of psoriasis are extremely effective and have a good safety profile. In the past two years, biologic treatment has also been approved for the treatment of eczema. For eczema sufferers, this is a breakthrough treatment that has been proven to be a safe and effective alternative to traditional oral medications.
Julian:My involvement with cornea transplantation and artificial eye transplants 10 years ago was definitely a catalyst in my current practice as well as the advancements on presbyopia, which I wrote a book on 10 years back. This allows different techniques and methods to free patients from glasses.
My Alvernia:How has COVID-19 affected your respective practices?
Colin:COVID-19 has changed my practice significantly. We observe safe distancing protocols and have stepped up the frequency of cleaning surfaces. We have also been doing more teleconsultations for patients, as well as home delivery of medications.
Julian:The impact of COVID-19 led to opportunities for improvement in running our practice with the aid of digital technology. At all of our centres, we observe safe distancing protocols and follow the measures advised by the Ministry of Health.
My Alvernia:What is your advice to our readers on how to look after their skin health and eye health?
Colin:Sun protection is extremely important as the sun accelerates skin ageing, causes pigmentation and increases the risk of skin cancer. Avoiding unnecessary sun exposure and using sunblock regularly is very important.
Julian:Most of the advice for reading in bright light conditions and not spending too long in computers is more applicable for children with developing eyes and vision. For adults, just eat well, stay healthy and go for regular eye checks when you have any issues. That's all you need to worry about.
My Alvernia:Thank you, gentlemen, for the insights into brotherhood and the medical fraternity. We greatly enjoyed the conversation.
Dr Colin Theng
Dermatologist
The Skin Specialists & Laser Clinic
Medical Centre D #07-61

Dr Julian Theng
Ophthalmologist
Eagle Eye Centre
Medical Centre D #06-57/58/59/60/61/62
This article is taken from our My Alvernia Magazine Issue #44. Click here to read the issue on our website or on Magzter.