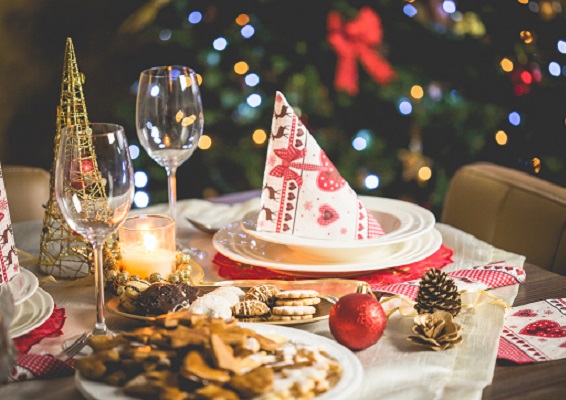 Ms Sarah Sinaram, Nutrition and Dietetics Manager offers the 12 tips to help preempt any of the looming stress and to handle the holidays in a healthy way.
'Tis the season and the long holidays to let loose, party hearty and enjoy tantalising gastronomic selections of food: scrumptious gourmet buffets and seemingly endless servings of chocolates and wines. It isn't usually a time when anyone worries about their health.
The worry starts to set in after January 1st when most of the parties are over where you realise you look a bit haggard and tired from plenty of late nights and booze; not to mention spotting a bulging waistline in the mirror!
1. WATCH THE GRAVY
Turkey is considered a red meat because it has a slightly higher fat composition than that of chicken. The real killer, however, is the gravy. It can hide as much as 70 calories in a single tablespoon – the equivalent of eating one whole apple. Limit intake of gravies and sauces to 1-2 tablespoons as these contain hidden fats and may be high in calories.
2. INCLUDE PROTEIN IN YOUR CHRISTMAS MEAL
Foods high in protein seem to make us feel fuller than high carbohydrate foods, so include some protein at your Christmas meal to help keep you satisfied. Foods high in protein include meats such as skinless chicken, lean pork, fish, eggs, beans and pulses.
3. STICK TO NO MORE TWO SLICES OF GLAZED HAM
There's so much to love about delicious pre-smoked ham and each slice has only 55 calories. The thing to take note of this dish, though, is the fat and sodium that comes with it. So stick to just one to two slices, and you should be fine.
4. CHOOSE LEAN CUTS OF MEAT
If you are watching your weight, opt for lower fat versions, using leaner cuts of meat, cutting off visible fat and avoiding the skin on poultry as this will help reduce your caloric intake.
5. REMEMBER THE FRUITS AND VEGETABLES
Foods that are high in dietary fibre may also enhance feelings of fullness so try to include plenty of high-fibre foods in your meal such as vegetables and have fruits for dessert if they are available.
6. MODERATE ALCOHOL INTAKE
Alcohol seems to stimulate appetite in the short-term and therefore drinking alcohol is likely to encourage us to eat more. Alcoholic beverages can make you forget about your intentions to eat healthily by making you lose your inhibitions. Alcoholic drinks are also calorific, so you should cut down on alcohol consumption if you are trying to control your weight.
7. MIX OF WATER AND JUICE
As an alternative, try sparkling water with splash of cranberry juice and a slice of orange during dinner. Also, drink water after your meal (about 15 minutes after). Water aids digestion of food and helps to flush toxins out of your system. It also helps your skin stay bright and fresh and less prone to breakouts and dullness. Thoughout the whole day before your big party in the evening, remember to drink enough plain water to stay hydrated.
8. AVOID A HANGOVER
Avoid consuming alcohol on an empty stomach. Before you go out, have a meal. The food will help slow down the body's absorption of alcohol. Drink water in between each alcoholic drink and have a glass of water before you sleep. If possible, keep a glass of water by the bed to sip if you wake up thirsty during the night.
9. PRACTISE PORTION CONTROL
While most people resort to detox diets after a food binge, there is little evidence that they actually help to eliminate toxins from your body. In healthy individuals, the kidneys and liver are effective at filtering and eliminating most ingested toxins. Adopt healthy eating immediately after a food binge, cut out processed foods and practise portion control during meal times. Having small, frequent meals will also help ensure you are full throughout the day.
10. DO MORE EXERCISE AFTER ENJOYING A HEAVY FESTIVE MEAL
Exercise is a great way to burn those extra calories you may be taking in this time of the year, keep your energy in balance and waistline in check. Simply walk more, park your car some distance away from your destination or just use the stairs!
11. REMAIN ACTIVE
It does not have to be a regiment of hitting the gym for a fixed duration or days of exercise. You can still have a fitness routine whenever possible and it could be as simple as heading down to the supermarket, walking around the store, carrying bags and pushing a trolley. It is still a reasonable workout without you realising it. Plus, there are always post-Christmas sales and offers; a perfect time to get out and shop.
12. BE GENTLE ON YOURSELF
After all, it is a holiday and there is a lot to celebrate and talk about with friends and family. Plus these are the foods that you normally wouldn't eat all year round. So if you feel like having the creamy log cake or a bit of eggnog or bread pudding – have it. Just do so in moderation and remember to keep your energy in balance for the New Year ahead.
Article contributed by Ms Sarah Sinaram, Nutrition and Dietetics Manager at Mount Alvernia Hospital. Click here to learn more about our Nutrition and Dietetic services. 
This article is taken from our My Alvernia Magazine Issue #32. Click here to read the issue on our website or on Magzter.