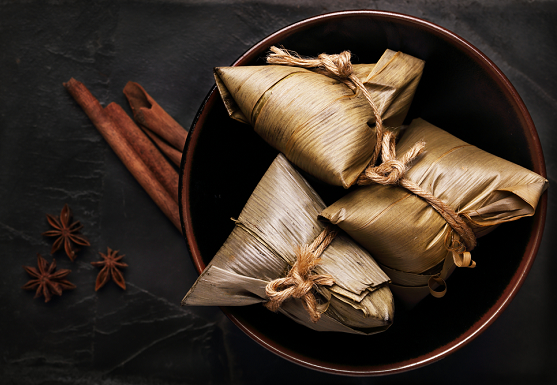 It is the time of year for the Dragon Boat Festival and while 22-member dragon boat teams race against each other at Marina Bay, Kallang River and Bedok Reservoir, another significant hallmark of this period is making and eating tasty glutinous rice dumplings.
There are several varieties of these traditional packages of rice wrapped in aromatic pandan leaves – with different fillings based on their origins.
DIFFERENT TYPES OF RICE DUMPLINGS
Bak zhang – a triangular glutinous rice dumpling filled with pork, water chestnuts and mushrooms which is popular in Singapore.
The Nonya (or Peranakan) adaptation uses braised minced pork, five spice powder and candied winter melon.
Kee zhang – – sweet rice dumplings made of yellow glutinous rice which has red bean paste in their centre or sometimes no filling at all. These are eaten dipped in sugar or gula melaka syrup. Other sweet rice dumplings may contain dates or nuts.
SWEET AND SAVOURY
Sweet versions of rice dumplings tend to originate from regions in Northern China where the natives prefer them as sweet snacks or desserts. The savoury types tend to be preferred by the Southern Chinese and may be filled with pork belly, Chinese sausage and salted duck eggs.
A bak zhang with meat filling has 387 calories, 13.5g fat and as much sodium as a slice of pepperoni pizza (682 mg). A Nonya rice dumpling, while being slightly healthier – with 315 calories, 7.9 g fat and 494 mg of sodium – has similar calorie content as a bowl of rice. If you opt for a vegetarian rice dumpling with mock meat, chestnuts and Chinese mushrooms, you get similar calories and fat as a Nonya dumpling; however the mock meat increases the sodium to a whopping 896 mg if you get a large dumpling.
How do sweet glutinous rice dumplings stack up against savoury ones? Firstly, they tend to be smaller. A kee zhang (96 g) has 164 calories, 7 g sugar and 165 mg sodium. Despite their small size, they make hearty snacks or desserts – having more carbohydrates than 2 slices of bread and potentially even more depending on how much sugar or syrup you dip it in.
Thus, practise moderation when having glutinous rice dumplings as they are high in energy, fat and sodium – especially when fatty pork, processed meats and salted eggs are added in. Try sharing your dumpling with others so as to reduce your portions or have a bak zhang or Nonya rice dumpling as a meal instead of a snack and accompanying your dumpling with a serving of fruit.
Individuals with chronic diseases such as diabetes or hypertension may practise portion control by limiting to 1 small rice dumpling or sharing a large one.
It is noted that glutinous rice dumplings are not typically part of Singaporeans' typical day-to-day diet and are consumed mostly during the Dragon Boat Festival.
HOW CAN I MAKE MY RICE DUMPLINGS HEALTHIER?
Healthier ingredients can be used when making glutinous rice dumplings, for example using unpolished glutinous rice, lean meat instead of fatty meat and adding lesser amounts of Chinese sausage, salted eggs and dark soy sauce. These help increase the fibre content and reduce fat and sodium respectively.
REFERENCES
Health Promotion Board – Energy & Nutrient Composition of Food
Dragon Boat Festival (n.d.) Singapore Tourism Board. https://www.visitsingapore.com/festivals-events-singapore/cultural-festivals/dragon-boat-festival/ Accessed 6 June 2019.
Roufs T.G. & Roufs K.S. (2014) Sweet Treats around the World: An Encyclopedia of Food and Culture: An Encyclopedia of Food and Culture. Pp. 81. ISBN 978-1-61069-221-2.
This article is contributed by our dietitians from the Nutrition and Dietitian department of Mount Alvernia Hospital.
To learn more about our Nutrition and Dietitian services, click here