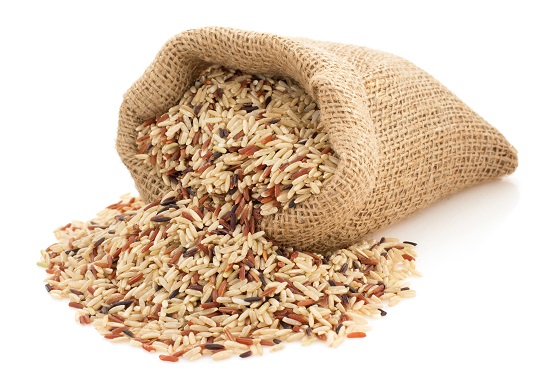 Our white rice-eating ways have come under fire since the Singapore Government announced its war on diabetes in 2016. Sarah Sinaram, Head, Nutrition and Dietetics Department at Mount Alvernia Hospital, explains why brown is better than white in the good fight.
WHAT'S THE DIFFERENCE?

Brown rice differs from white rice in that the bran portion of the grain remains intact, thus retaining its optimum nutritional value.
The complete milling and polishing that converts brown rice into white rice destroys 67 percent of the vitamin B3, 80 percent of the vitamin B1, 90 percent of the vitamin B6, half of the manganese, half of the phosphorus, 60 percent of the iron, and all of the dietary fibre and essential fatty acids. Fully milled and polished white rice is required to be 'enriched' with vitamins B1, B3 and iron.
Besides its superior nutritional value, brown rice scores lower on the Glycaemic Index (GI) than white rice. Compare its score of 65 (for long grain) to 76 (for short grain), with white rice's 78 (for long grain) and 98 (for short grain). GI measures how quickly food causes blood sugar levels to rise after consumption – the higher the GI score, the faster the spike in blood sugar levels.
WHAT GI IMPLIES

In healthy non-diabetics, the pancreas produces a hormone called insulin that helps transport sugar in the blood to the tissues in the body. In diabetics, the pancreas produces insufficient or no insulin, or fails to use it efficiently.
In diabetics, sugar in the blood can block the flow of blood to the organs and fine blood vessels, causing kidney failure, eye damage leading to blindness, gangrene requiring amputation, and many other grim complications.
The bad news for rice-loving Asians is, according to studies by the Harvard School of Public Health, that a plate of white rice eaten in a day – on a regular basis – raises the risk of diabetes by 11 percent in the overall population.
The good news is, replacing just 20 percent of your white rice with lower-GI brown rice can lower your risk of diabetes by 16 percent.
MODERATION AND VARIETY, DIABETIC OR NOT
Sarah emphasises that the dietary recommendations for people with diabetes are no different from those for healthy individuals. Moderation and variety are key to any healthy diet, diabetic or not.
While switching to whole grains like brown rice is a healthier choice for everyone, she cautioned that people with diabetes must pay particular attention to their carbohydrate intake in order to exercise good control of their blood sugar levels and weight.
Eat well, be well. Go against the grain and give brown rice a try.
Article contributed by Ms Sarah Sinaram, Nutrition and Dietetics Manager at Mount Alvernia Hospital. Click here to learn more about our Nutrition and Dietetic services.
This article is taken from our My Alvernia Magazine Issue #34. Click here to read the issue on our website or on Magzter.