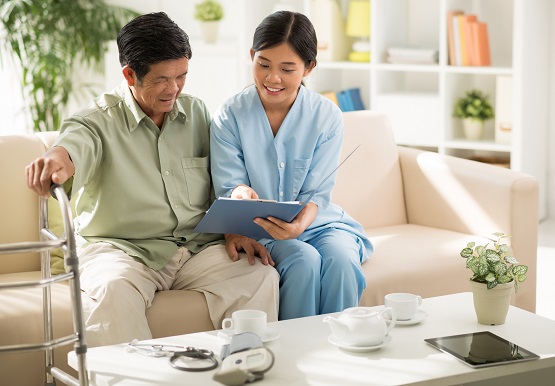 The vast majority of Singaporeans would prefer to grow old in their homes. The increasing availability of part-time caregiving helps them do just that.
YOU NEED OUTSIDE HELP WHEN…
Caring for an elderly family member is not an easy job. Family caregivers face a host of challenges, often having to juggle their family, the elderly family member and full-time work. Other caregivers struggle to deal with the emotions of an elderly parent who is fighting against losing their independence. Many simply lack the specialised knowledge to care for an elderly person with minor or multiple health conditions.
In Asian society, many overloaded caregivers resist putting their hand up for help. Traditional expectations of filial piety can weigh heavily on their conscience and prompt them to persist in caregiving when it is clearly beyond them. Though it is easier said than done, these feelings should be set aside and the focus shifted to the ultimate wellbeing of the elderly family member.
If you are a caregiver, here are four signs that you may need help caring for your elderly:
• you feel overwhelmed and emotional almost all of the time
• your performance in the workplace is compromised
• your children are misbehaving, possibly due to a lack of parental attention
• you constantly worry that your elderly family member is not receiving the care that they need.
If you nodded knowingly as you read any or all of the above signs, perhaps you should consider professional caregiving to ease your load.
IN THE BUSINESS OF HELPING
A growing number of professional organisations are offering elderly Singaporeans and their families the option of part-time caregiving by trained professional nurses, therapists and caregivers. This can greatly ease the workload of the family caregiver or caregivers, as well as provide extra care as the needs of the elderly family member increase with age.
Among the most popular services provided by caregiving organisations is physiotherapy. Given that the most common conditions among the elderly are heart disease, stroke, arthritis, osteoporosis and respiratory disease, all of which affect mobility, this is not surprising.
Mobility is inextricably tied to independence, and positively impacts many other areas of health and fitness. An investment in home visits by a physiotherapist could be a very good investment in a healthy old age for your elderly loved one.
MATCHING THE CAREGIVER TO THE CLIENT
A spokesperson for CaregiverAsia, an online aggregator of health and caregiving services, explained the careful process by which a caregiver is matched with a client.
"The key considerations when booking a caregiver for an elderly are based on the caregiver's experience in meeting the specific requirements of the client, be they lifting patients, assisted walks or simply light household chores," said a spokesperson for CaregiverAsia. "Ease of communication with the elderly, such as speaking the same dialect, is also an important factor. And last but not least, budget is always taken into consideration."
At the end of the day, when the family caregiver is getting the support they need, their elderly loved one is getting the care they need. It sounds like the perfect arrangement.
To enjoy a discount on booking fees, please quote promo code 'MTALV40' when engaging the services of CaregiverAsia by phone
This article is written in collaboration with CaregiverAsia.
This article is taken from our My Alvernia Magazine Issue #36. Click here to read the issue on our website or on Magzter.