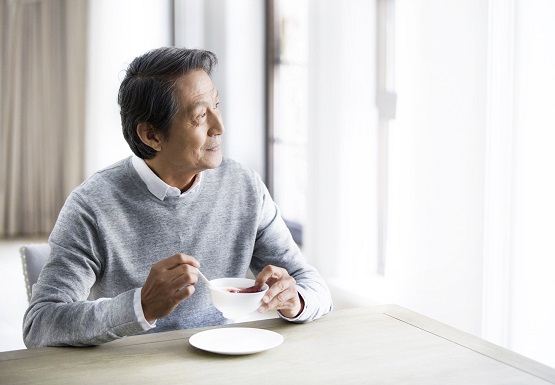 WHY OUR SENSES DIM WITH AGE
Some loss of taste and smell is natural due to ageing, according to Dr Chan Kin Ming, Geriatrician at Chan KM Geriatric & Medical Clinic Pte Ltd. He said that the loss of sensation is more pronounced especially after 60.
"As we grow older, there is a gradual impairment of the nerve endings. As they become less sensitive, some people may develop a reduced sensation in their fingers or toes, while others may develop a reduced sense of taste and smell as well," he explained.
A newborn has approximately 10,000 taste buds scattered at the back, side and tip of the tongue. However, as a person ages, some of these taste buds are lost.
"From as early as 50 years of age, changes in taste can occur due to the natural degeneration of nerves in the taste buds, compounded by reduced saliva production," said Sarah Sinaram, Head of Nutrition and Dietetic Services Department at Mount Alvernia Hospital.
Similarly, our sense of smell becomes less acute over time, due to the degeneration of nerves in the nose. When chewed, food releases aromas that enhance our enjoyment. If these aromas are not detected, our enjoyment of eating is eroded.
ASIDE FROM AGEING
Besides the 'usual suspect' of ageing, medications such as cholesterol or blood pressure lowering drugs may also contribute to a reduced sense of taste and smell. Likewise, dental problems, cigarette smoking, dementia, Parkinson's disease or head injuries may play a part.
Dr Chan points out that some patients with dementia or cancer may not feel hungry at all, and therefore don't enjoy food. Patients with Parkinson's disease may also find chewing and
swallowing a chore, especially when they are prone to choking when attempting to swallow food and water. Depression can also rob a person of the joy of eating, regardless of age. On the other hand, you can become depressed due to a reduced sense of taste and smell.
EXCESSIVE FLAVOURINGS
A reduced sense of taste and smell may cause poor appetite resulting in decreasing food intake due to poor appetite and hence poor nutrition, weight loss and even malnutrition. It also carries an equal risk of people adding excessive flavours just to get the taste.
"Some people may add extra salt or sugar in their cooking or to their food to compensate for the loss of taste. However, this can pose health risks in elderly people, especially those who suffer from hypertension, heart problems or diabetes," said Sarah.
To add flavour to food without heaping on the salt and sugar, natural sources like peppercorns, tomatoes, chilies, garlic, onions, basil, lemon and lime juice can be considered.
"On a case-by-case basis, sometimes we do recommend the use of more salt in patients' food, but with close monitoring of their heart and renal conditions," added Dr Chan.
HEALTHIER FIXES
To whet appetites for food, home cooks should also ensure that the food they prepare is visually appealing, incorporating lots of colourful vegetables and served on attractive plates. Attention should also be paid to the temperature at which food is served, since certain foods taste better warm than chilled, and vice versa.
Dr Chan urges family members and caregivers to let the elderly eat foods that are cooked to their taste. "It is pointless to insist on a low-salt or low-sugar diet when the intake is not sufficient to meet the person's basic nutritional needs. When all avenues have been exhausted and a person's dietary intake is still inadequate, supplements can be prescribed," he advised.
Another strategy to stimulate an elderly person's appetite that Dr Chan suggests is to try serving frequent small meals instead of three large ones. Sarah suggests nutrient-dense small meals such as French toast or fruit served with custard. Food should always be easy to swallow – cut into small pieces, cooked till soft, or even blended.
FOOD TASTES BETTER WITH COMPANY
"People tend to eat more when there is company. So, eat with the elderly," said Dr Chan. He also suggests involving them in food preparation, if they are up to the task. If the preparation drains them of energy, they may be too tired to eat by the time the food is ready.
Of course for every rule there is an exception. "Again, know the elderly well. Some of them may be easily distracted when in a crowd, thus eating less than usual. This group of elderly may need to eat separately from the rest. Sometimes even the TV has to be switched off in order not to distract them from their food," qualified Dr Chan.
LONG-TERM PLANNING
It almost goes without saying that healthy eating habits should be cultivated at a young age. Current research suggests that taste preferences are formed in infancy and even in the womb. "Since we can't prevent the loss of smell and taste as we get older, one should start controlling the amount of salt or sugar added in food since young, as taste preference is easier to adjust at a younger age," shared Sarah.
The message is clear. Eat not just for the momentary pleasure of it, but for a long, healthy and satisfying old age. The years will be so much kinder, and sweeter, in the long run.
Article contributed by Dr Chan Kin Ming, accredited doctor of Mount Alvernia Hospital and Ms Sarah Sinaram, Nutrition and Dietetics Manager at Mount Alvernia Hospital. Click here to learn more about our Nutrition and Dietetic services. 
This article is taken from our My Alvernia Magazine Issue #33. Click here to read the issue on our website or on Magzter.