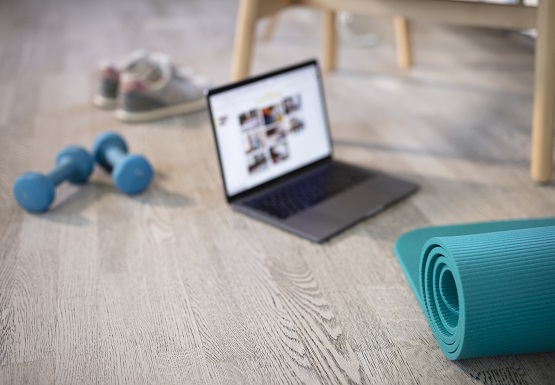 The home office comes with its own set of occupational hazards. Adwin Ho, Physiotherapist at Mount Alvernia Hospital Rehabilitation Centre, shares how you can work on your fitness while working from home (WFH).
WFH CAN BE A PAIN IN THE NECK
In recent months, Adwin has seen an increase in the number of patients presenting with neck and lower back pain and strain, many of them working from home. He expects the trend to continue.
To avoid musculoskeletal injuries while WFH, Adwin recommends getting up from your chair every 20 minutes or so. He claims that even getting up once every 30 to 45 minutes will go a long way towards preventing aches and pains from developing.
If you need some cues to remind you when to get a move on, Adwin suggests:
1. Keep hydrated
Not only does a good hydration plan benefit every cell in your body, but regular dashes to the toilet will increase your activity level and minimise prolonged sitting.
2. Drink from a cup
Likewise, drink from a cup instead of a water bottle as this encourages frequent visits to the kitchen for refills.
3. Stretch
A variety of quick and easy neck and lower back stretches can be performed in a seated position. They are just a Google search away!
ACE YOUR WORK SPACE
Adwin emphasised the importance of paying attention to the physical components of your work space. He recommends a chair with a proper back and head support, and a table at a height that is conducive to working comfortably. The top of your computer screen should be at or slightly below eye level, and your monitor should be directly behind your keyboard.
"That being said, the most comfortable chair is the one you don't sit in for too long!" added Adwin, underlining the importance of getting up and moving around.
A WEIGHTY ISSUE
Adwin predicts that WFH-related health problems will not be limited to musculoskeletal injuries.
"Weight gain is another health issue that I foresee, due to the decrease in physical activity level that comes with working from home, compared to going to the physical workplace," cautioned Adwin.
Being overweight or obese puts you at a higher risk of sprains, strains and falls, and drastically increases stress on the joints. It is also related to many serious health conditions, including diabetes, sleep apnoea, and even cancer. The knock-on effects of sneaky weight gain, the kind that creeps up on you half-kilo by half-kilo, can have disastrous long-term consequences.
Since WFH means easy access to the fridge and snacks, Adwin takes a realistic stance on resisting temptation — simply do not buy unhealthy foods in the first place!
WORKING OUT FROM HOME
If you are now skipping the daily commute and have more time on your hands, why not put it towards those fitness goals you have been putting off?
According to Adwin, there are many effective bodyweight exercises that can be done in the comfort of your home with minimal or no equipment, such as squats and lunges.
"The time saved from not having to commute can be put to good use with a quick jog around your estate or a few laps in the pool," suggested Adwin.
WORKING FITNESS INTO YOUR SCHEDULE
Both the World Health Organization (WHO) and SingHealth recommend that adults do at least 150 minutes of moderate-intensity aerobic physical activity throughout the week, or at least 75 minutes of high-intensity aerobic physical activity throughout the week. The manifold benefits include weight management, stress relief and better sleep.
"Most importantly, time should be set aside for physical activity. It should be one of the important priorities in life, not an afterthought," emphasised Adwin.
"Once you adopt this mindset, exercise will become an enjoyable activity, not a chore." Adwin underlined the importance of starting slowly when embarking on a new exercise programme, especially if you have not exercised for a long time.
GET OUT OF THE HOUSE
Though exercising at home has its benefits, including not being at the mercy of our unpredictable weather and the enforcement of social distancing, Adwin pointed out that it has its limitations, too. For example, heavy-duty jumping is out of bounds, and hanging punching bags and pull-up bars may cause structural damage to your flat or apartment.
"On the other hand, when you are exercising outside of home, you are accorded the luxury of space, which helps you put in a good cardio session," pointed out Adwin. "It is also good to have a change of environment and enjoy the fresh air."
The verdict is – "All in all, exercising at home and outside of home each has its own benefits. It is healthy to have a balance of both," said Adwin.
MAKE WFH WORK FOR YOU
The pandemic has taught us many things, including how unpredictable life is and how adaptable we human beings are. If you still have gainful work but are WFH till further notice, give thanks and make it work for you. Please pay attention not only to your physical fitness health but to your mental health, too.
Now, get up, stretch your legs and refill that drinking cup!
Mount Alvernia Hospital Rehabilitation Centre
Tel: +65 6347 6203 / +65 6347 6365
Mon to Fri: 8.30am to 5pm
Sat: 8.30am to 1pm
Sun & PH: Closed
This article is taken from our My Alvernia Magazine Issue #42/43. Click here to read the issue on our website or on Magzter.