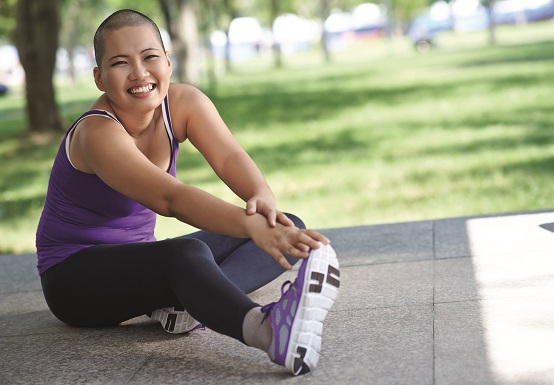 NO LONGER A DEATH SENTENCE
Macmillan Cancer Support, a leading cancer charity in the UK, has published a 2016 report showing that "people are twice as likely to survive a decade after cancer diagnosis and treatment as they were in the 1970s." Much credit goes to improved treatment, faster diagnoses and advocacy for early and regular screening.
Many view cancer as 'the end', which Dr Robert Lim, a medical oncologist from ICON SOC (Singapore Oncology Centre), wishes to address. "A diagnosis of cancer almost always brings about immense shock and a spectrum of negative feelings ranging from anger, guilt and depression. You should spend time speaking to your physician on the diagnosis and assessing treatment options. That will help alleviate anxiety and concerns." Some questions to ask your doctor might include:
What type of cancer is this and what stage is it?
What are my treatment options to consider?
What will these treatments aim to achieve?
What are the common side effects or risks involved?
How best can I help prepare myself?

Depending on the gravity of the disease affliction, some family members and patients may seek a second, and even a third opinion.
"Obtaining opinions from other doctors can be helpful. There might be different reasons for considering this, ranging from seeking and confirming the diagnosis and treatment plan, to seeking alternative options," Dr Lim explained.
"Ultimately, it is essential that you have the opportunity to ask the questions you have and to have the time to understand the explanations," he advised.
In fact many survive and return to an active and fulfilling life once more. You can turn to the countless survivors in both the local and overseas settings for immediate proof. Featured on The Straits Times was Arun Rosah, a physical exercise specialist who saw himself battling a third-stage colorectal cancer at the age of 51. After a combination of chemotherapy, radiation therapy and surgery, he has since recovered, returning to a normal life.
Hollywood superstar, Hugh Jackman, a cancer survivor, found and removed multiple skin cancers including one on his nose. He goes for cancer screening every three months to check for any new development, recommending that everyone else does the same.
In Mount Alvernia Hospital, we have our inspiring group of cancer survivors. Among these are a group of kids who have survived childhood cancers together and bonded over Taekwondo while in medical care. Reading their inspiring stories will help to encourage you that cancer is a fight you can win, tough as it may be.
A big part of successful cancer prevention and treatment is early detection. With the numerous cancer screening options, it is easy to be overwhelmed. What we advise is to determine the cancer risk groups you fall under and the corresponding options to screen for the specific cancers. For example, as a female, you can seek out a mammogram to detect early breast cancer, and if you are over the age of 50, colonoscopy should be considered.
"In this modern era, various advances have made the possibility of eradication or better long term control much more possible, often with improved symptoms and less toxicities of treatment," Dr Lim added.

CARE AND SUPPORT
Cancer patients often draw strength from their loved ones since it is in this trying time that they need more support. Their loved ones and caregivers play an important role in their journey to recovery. Providing care whenever possible. This means being a good listener, giving physical nursing care and if you all stay together, making household adjustments. It is in these little things that care shines through.
Educate yourself on their illnesses as well. For example, a patient on chemotherapy may see a weakened immune system that can result in serious opportunistic infection. The patient may go into life-threatening sepsis that requires emergency care and attention. As a caregiver, knowing the signs of potential complications can go a long way in safeguarding the patient's life.
Giving care and support to a cancer patient can be a stressful duty. When providing care, make sure you look after yourself as well. Do not shoulder too much and be overwhelmed. While you may need to cut back on your personal activities to make time for caregiving, do not cut them out completely. If you fear that you are not able to fully manage your emotions and stress, join a support group or seek help. Carry the conviction the cancer battle will be won, as many before have done so.

AT A GLANCE
In general, the incidence is highest in Chinese followed by the Malays and Indians. Colorectal, lung and prostate cancers are the 3 leading cancers diagnosed in males. Breast, colorectal and lung cancers are most common among females. Southeast Asia as a region, has a lower incidence of cancer as compared with Europe, America and Australia. The incidence of cancer in Singapore nears that of other developed countries though it is still somewhat lower.

COMMON CANCER MYTHS
MYTHS
FACTS
Cancer is a death sentence
About a third of all cancers can be cured if they are detected and treated early. That is why regular health check-ups and screenings are important.
Cancer is contagious
You cannot catch cancer from someone who has it. Spending time with a loved one who has cancer will not cause you to get it too.
Eating sugar will make cancer grow faster
Research has shown that cancer cells absorb more sugar than normal cells. But there is no scientific evidence to suggest that consuming sugar or sweet foods will worsen cancer.
Bad thoughts or negative attitudes will cause me to develop or die from cancer
If you have been diagnosed with cancer, you are likely to experience many different emotions. It is natural to feel sad, angry, frightened or discouraged. When the going gets tough, a positive attitude might be able to help you cope better with your cancer diagnosis or side effects of treatment.
If someone in my family has cancer, I am likely to get it too
About five to ten percent of cancers are caused by inherited genetic mutations. A strong family history of cancer puts you at a higher risk of developing it but it does not imply you will definitely get cancer later in life.
Source: Singapore Cancer Society 
REFERENCES
http://www.singaporecancersociety.org.sg/learn-about-cancer/cancer-basics/common-types-of-cancer-in-singapore.html
Singapore Cancer Registry. Annual Registry Report. Trends in Cancer Incidence in Singapore 2010-2014
https://www.straitstimes.com/singapore/working-his-way-back-to-fitness-after-horrendous-period
https://www.theguardian.com/film/2016/feb/09/hugh-jackman-posts-sun-safety-appeal-after-getting-skin-cancer-removed
http://www.singaporecancersociety.org.sg/learn-about-cancer/cancer-basics/cancer-myths-debunked.html
This part of the article is contributed by Dr Robert Lim, accredited doctor of Mount Alvernia Hospital. It is also Part 2 of a 2-part series. Click here to read part 1 of the series.
This article is taken from our My Alvernia Magazine Issue #29. Click here to read the issue on our website or on Magzter.