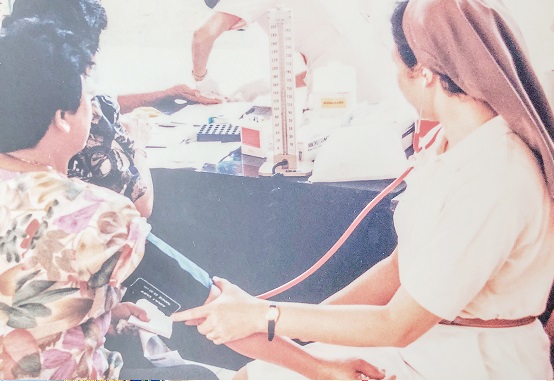 As Mount Alvernia Hospital celebrates 58 years of serving all with love, we spoke to two of the pioneering Sisters of the Franciscan Missionaries of the Divine Motherhood (FMDM), Sister Agnes Tan and Sister Thomasina Sewell, about the early days of community outreach. We learned that the FMDM Sisters have in fact been serving Singaporeans for some 70 years and counting, more than a decade before the hospital opened. And while a lot has changed, the practice of helping the community, among other things, has endured.
BACK TO THE BEGINNING
Back in the 1940s, the colonial government in Singapore asked Bishop Michael Olçomendy of Malacca to help look for religious nursing staff who would be willing to work with tuberculosis patients at Tan Tock Seng Hospital, then known as the Mandalay Road Hospital, and at Trafalgar Home, a home for leprosy patients at Woodbridge.
Due to the highly infectious nature of the diseases, it was difficult to find staff willing to work in close proximity with the patients. The situation was exacerbated by the high post-war demand for medical services and the local shortage of trained nursing staff.
The Bishop subsequently sought the help of three Sisters, Sister Angela McBrien, Sister Mary Camillus Walsh and Sister Mary Baptista Hennessy, who had been doing mission work in China but were compelled to leave due to the unstable and dangerous political situation there then. The Sisters readily agreed. They arrived in Singapore in 1949 and diligently went about their duties at Tan Tock Seng Hospital and Trafalgar Home.
SERVING ALL WITH LOVE
Also known as 'The Leper Camp', Trafalgar Home was a leper settlement where leprosy patients and their families lived in isolation. This was the key treatment strategy then as the cure for the condition was not yet available in Singapore. Hence the Sisters' work at Trafalgar Home involved not only looking after the leprosy patients, but also looking after and educating the patients' children.
In the leper settlement, the Sisters ran a regular school for 50 or so children of the leprosy patients. With palpable pride and affection, Sister Thomasina recalled students who sat for their O-levels in the settlement's school and, went on to attend the Sisters' nursing school. In addition to training the children of the leprosy patients, the nursing school also took in many of the recovered lepers who graduated and practised as nurses.
"We trained the recovered patients to look after their own. That was the whole idea," recalled Sister Thomasina.
At Trafalgar Home, the Sisters' mission to serve was also shared by many lay volunteers. Sister Thomasina recalled that some were also European military nurses, while others came from local church communities.
Fortunately, medicine advanced and the Sisters found themselves caring for fewer and fewer leprosy patients.
BIRTHING OF A DREAM
Apart from their normal duties as nurses and caregivers, the Sisters also helped to train local recruits in nursing. The FMDM community also began to grow with the recruitment of the first Asian novices from Singapore and Malaysia in 1951. By then, as vaccination programmes began to be introduced and tuberculosis became curable, a vision to start their own hospital was gradually birthed. On 1 November 1952, they started raising funds to support their dream.
Sister Agnes recalls the tireless fundraising efforts of the Sisters, who would work all day, grab a quick drink, then set out on foot in the evening to go asking for donations from homes and offices. The thrifty Sisters also contributed their expat salaries, which they had faithfully set aside from the beginning.
After four years of tireless fundraising, the Sisters bought a piece of land along Thomson Road and building began. You could say that the hospital's very foundations were built on charity and paid by the people of Singapore.
POSSIBLY OUR EARLIEST BENEFICIARY
Sister Agnes recalled an incident when the hospital was being built. Somebody had tipped off the Sisters to the fact that a woman had been spotted stealing building materials from the site. The Sisters stood vigil and caught the woman red-handed. But far from admonishing or handing her over to the police, they listened to her story and extended a helping hand.
As it happened, the woman was pregnant with her ninth or tenth child. Her husband was a poor provider and a bad father, so to survive, she resorted to theft to feed her starving children. The Sisters took pity on her, and invited her to stay at the new hospital to deliver her child. Not only were her fees waived, but because her nutrition was inadequate and she was unable to breastfeed, the Sisters sponsored her baby's milk after her discharge from the hospital. Whenever she came to collect the milk, she would bring flowers picked from the roadside as an expression of her deep gratitude.
OVERCOMING ADVERSITY TOGETHER
Sister Thomasina fondly recalled a former patient who turned his life around, despite challenging circumstances, with a little help from his friends at Mount Alvernia Hospital.
It was in 1961, the year that Mount Alvernia Hospital was established, that *Joseph Lim met with a diving accident that damaged his spinal cord and left him paralysed from the neck down at the age of 20. Since his father was a humble hawker with many mouths to feed, the Sisters took him in and catered to his every need. His condition required constant round-the-clock nursing. The Sisters had to lift and turn him from side to side, bathe him and feed him. Sister Thomasina shared that he never had a single bedsore, thanks to the quality of the Sisters' care.
"Though he was a non-paying patient, wetreated him no differently from those in private rooms, right down to the handembroidered bedsheets," said Sister Thomasina.
A surgeon soon befriended Joseph and rallied a group of fellow doctors to buy him a machine that enabled him to write. Joseph went on to write award-winning essays and short stories. He also became an accomplished mouth artist. His creative and artistic talents earned him a tidy sum that enabled him to move out of the hospital and live in his own HDB flat with a helper till his passing recently.
THEN VS. NOW
Though the early outreach efforts of the Sisters of Mount Alvernia Hospital were centred mainly on tuberculosis and leprosy patients, as well as the poor, there are threads of continuity that connect the hospital's efforts through the decades.
Perhaps the most obvious difference between the efforts of the pioneering Sisters and those of our current Community Outreach team is the fact that lay staff and volunteers now provide the manpower. However, the mission of the Sisters to serve all with love is very much evident in their work.
While the poor were once served at the discretion of the Sisters, today there is a more structured outreach programme in place, to provide subsidised primary healthcare services to the disadvantaged and vulnerable in the communities through our outreach medical and dental clinics. We partner with a wide range of charitable organisations, both Christian and secular, to extend God's grace to those in need.
ON THE HOMEFRONT
The hospital's involvement with the centre dates back to 2017, when we conducted dental checks for the trainees at our outreach dental clinic at Agape Village. This year's eye checks included the Snellen Eye Chart and Ishihara Colour Test, and were accompanied by free flu vaccinations. The eye checks helped to identify trainees who might require glasses. Their parents or carers were subsequently informed and advised to take them to optical shops for further checks.
Special arrangements were made for trainees who were nonverbal. For example, letters and numbers that matched the images on the eye charts were provided, so that trainees could point to the correct answer instead of verbalising them. Some trainees also gestured and used sign language to communicate during the eye checks, while others used a paper and pen to write down what they saw.
In total, 28 trainees underwent eye checks and 19 received flu vaccinations. It goes to show that where there is a willing heart, there is a way around every challenge.
REACHING OUT TO THE REGION
Though it is said that charity begins at home, our Community Outreach team has in recent years ventured beyond our shores. In 2017, our nurses conducted a series of training sessions with WAH Foundation (Water and Healthcare Foundation) in Kampong Chhnang, Cambodia. Our neonatal colleagues conducted a Train-the-Trainer programme and imparted knowledge and skills on newborn resuscitation. This is in view of the high incidence of respiratory issues among the 3,800 or so babies delivered in the hospitals and health centres of the province.
Every month, over 100 newborns and over 4,600 children below the age of 14 years old suffer from respiratory issues. While 99 percent of these patients are seen at the province's health centre, severe cases are sent to Phnom Penh. To date, our team has already conducted three training sessions – two in 2017 and the most recent one in November 2018. They were attended by 82 local midwives and nurses from various health centres who will help to train their colleagues back at work with their newfound knowledge.
In addition, Bodhi Meditation donated the potentially life-saving equipment of three Neopuff machines and 10 nebulisers.
THE POWER OF LOVE
Just as our Sisters once trained the children of leprosy patients to become nurses, and a group of generous doctors bought a machine that enabled a paralysed man to write and find his literary legs, many of our recent and ongoing efforts in Community Outreach help people help themselves.
Whether we are empowering individuals through education or enabling them through donations of medical supplies and services, we always aim to instil hope in the heart of each and every person whose path we cross. In doing so, we continue to reaffirm the transformative power of love.
Source
here to learn more about our Community Outreach efforts. 
This article is taken from our My Alvernia Magazine Issue #37. Click here to read the issue on our website or on Magzter.