Community Outreach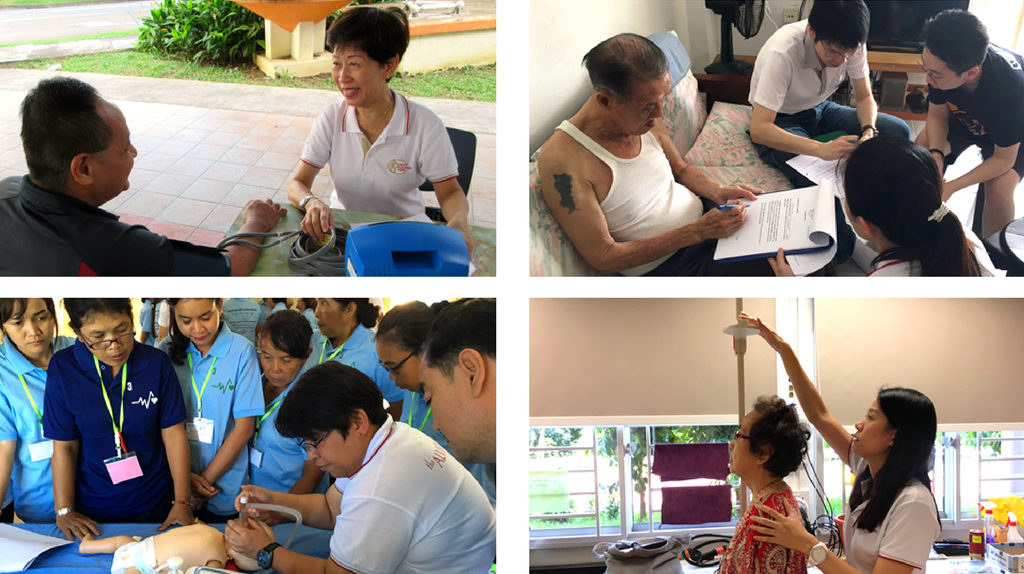 Continuing the ministry of our founders, Mount Alvernia Hospital strives to establish a good balance between its mission and business sustainability. We commit ourselves to the community through year-long community outreach initiatives; providing financial and administrative support to Assisi Hospice; and annual contributions to fund the global missionary work of the FMDM in aid of the poor and marginalised.
Since 2009, the hospital-wide community outreach programme has reached out to more than 25,000 individuals through various outreach initiatives held both locally and internationally. Supported by staff and volunteers, this hospital-wide initiative had benefitted many under-served communities and individuals who do not have easy access to regular healthcare services.
In the process, we hope to provide the latest information about health issues, how to keep well and medical services that are available today for consideration. At the same time, we aim to educate the community on general healthcare and to assist with referrals for services if needed.
EARLY DETECTION
Health Screening
Basic health screenings are conducted with various partner agencies for the beneficiaries under their care. These screenings can help detect 'silent' diseases such as diabetes, high blood pressure and high blood cholesterol which are common chronic diseases. The screenings also serves as an education platform for the recipients on the proper management of their health.
PREVENTION
Flu Vaccination
As healthcare is not a top priority, many especially the elderly are unaware of the importance of vaccination in helping to shore up an immune system and acts as a preventive measure against infections. With the assistance from partner agencies, flu vaccination programs are organised for their beneficiaries across the island.
HEALTH MANAGEMENT
Mount Alvernia Outreach Medical & Dental Clinics
The outreach clinics aim to provide heavily subsidised primary healthcare services for the vulnerable and marginalised who have fallen through the cracks of the conventional safety net to create a healthier community and a positive impact on individual's health improvement.
Medical Clinic @ Enabling Village
20 Lengkok Bahru #01-03 Block Playground Singapore 159053
Tel: +65 6473 5100
Operating Hours:
Mon & Fri: 9am to 1pm | 2pm to 6pm
Tue, Wed & Thu: 12pm to 4pm | 5pm to 8pm 
Medical Clinic @ Agape Village
7A Lorong 8 Toa Payoh #02-07 Singapore 319264
Tel: +65 6262 4312
Operating Hours:
Mon, Wed & Fri: 9am to 1pm | 2pm to 6pm
Dental Clinic* @ Agape Village
7A Lorong 8 Toa Payoh #02-07 Singapore 319264
Tel: +65 6262 4313
Operating Hours:
Mon to Fri: 9.30am to 1pm | 2pm to 5.30pm
*appointments are required
Mobile Clinic
To make healthcare services more accessible, a mobile clinic has been put in place. Regular visits are made to ex-prisoners at halfway houses, women and children staying at shelters, or elderly and those with mobility issues at rental flats. From time-to-time, volunteer specialist doctors will be engaged to provide pro bono consultation for specialty specific conditions.
GET IN TOUCH
Follow Us
Join us in our efforts as we continue to serve the community. To stay connected with our outreach initiatives, like and follow the Mount Alvernia Outreach Facebook page to get the latest news!
Contact Us
Tel: +65 6347 6650
Email: outreach@mtalvernia.sg