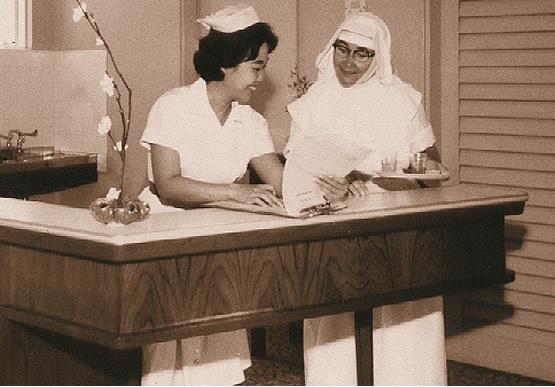 It has been 57 years since the FMDM Sisters opened the hospital in 1961. We take a trip down memory lane and relive what it was like to walk a mile – make that several miles a day, in the shoes of the dedicated pioneer Sisters.
In the first year or so, the entire hospital was run by the Sisters. They literally did everything themselves.
Sister Thomasina Sewell, aged 85, recalled the Sisters' motivation in stepping up to every challenge that presented itself. "When I look back, I think it was our old attitude of – what did we come for? We are here to serve. So whatever needed to be done, was done."
For the Sisters, night duty involved not only long hours but long flights of stairs. "When the bell goes on the third floor, you run up the stairs. We never used the lift. We did three months at a time, no days off,' recalled Sister Thomasina.
NO TASK WAS BENEATH THEM
"One day we were called out in the night to a place, a very lonely place, and waited there two hours – and none turned up. So when Mother-General heard (about) it, she said it was too dangerous. But we were not scared. We thought it was funny," she said with a chuckle.
The Sisters were made of stronger stuff than most, in more ways than one. Sister Antonine recalled one particular instance when a patient, a large-sized European man, had to be fetched from the Cathay building. Together with the late Sister Jean Marie, she had to lift him onto a stretcher and carry him into an ambulance.
From 'phantom callers' to heavy loads, the Sisters took it all in their stride.
The Sisters were not averse to dirty work, either. In fact, they led by example. In the early days, at night when there no or few housekeeping staff on duty, the Sisters would don heavy rubber aprons over their habits, roll up their sleeves and sluice the blood clots off the bed linen in the maternity wards.
The Sisters were equally hands-on when it came to cleaning the babies, both healthy deliveries and, sadly, the stillborns who were delivered preterm or didn't make it due to birth defects and other reasons. Their reverence and respect for the bodies of the latter was recalled by one of the nurses, who remembers them covering up the babies' bodies to spare the grieving parents further trauma.
FEARLESS, NIMBLE AND HANDY WITH A THIMBLE
Before the hospital was officially opened, the Sisters pitched in to help wherever they could. Unfettered by gender-based social conventions, they rolled up their sleeves and handled typical 'handyman' tasks such as electrical wiring. They also dedicated many hours to the traditionally feminine task of sewing.
The founding Sisters' sewing skills were applied not only to the mundane practical tasks of hemming hospital gowns and bed linen, but to the exquisite and intricate embroidery that adorned every bed sheet, baby crib cover and tray mat. Consequently, the hospital felt less clinical and more homely, and every patient felt special – not only cared for, but cared about.
EVERY PATIENT, A PAMPERED GUEST
In the early days, there was no disposable tableware or paper serviettes, and no cling wrap covering the patients' meal trays. The Sisters insisted that the patient's trays were assembled at their bedsides, with soup poured from a pot, and proper salt and pepper shakers that were routinely emptied and cleaned every night to prevent clogging. Every tray was lined with a hand embroidered tray mat and graced by a linen serviette and a flower in a vase.
The tableware was stainless steel, and the Sisters themselves polished it until it shone. Their shining example and tireless work ethic inspired the non-religious staff, who were all in awe of their stamina.
"The beauty of it was, whether you were a patient in a private room, 2-bedded or 8-bedded, it made no difference to the way we treated them," said Sister Thomasina. "From the time we started, we catered for everyone," said Sister Marie Louise Cordeiro.
PUTTING THEMSELVES IN PATIENTS' SHOES
The Sisters have always strived to care for not just the physical needs of their patients, but for their emotional and spiritual needs as well. To coin a well-used phrase, they put themselves in their patients' shoes.
"When I was a young nurse, I would pride myself that I had achieved so many deliveries in a night. I would count how many major operations that I had assisted and how much I have learnt. But in later years I realised, that was not enough. There is another side. The empathy side, towards the patient. The relationship with the patient, the kindness, care and concern that would come across that can matter," said Sister Florence Wong.
Sister Thomasina pointed out that while healthcare and service delivery had evolved over the decades, nurses must never forget basic values such as empathy for their patients. "Listen. And pick up the unsaid things," she said. "It's always not just what they say. It's about what they're not telling you. Use your heart. It's not a case of just doing things. Your feelings for your patients should come from your heart. Nobody can teach you that."
Clearly, the Sisters saw themselves as not just carers but companions, privileged fellow travellers on the journeys of their patients and patients' families.
The Sisters' characteristic compassion was extended not only to the patients, but to staff as well. Some of them recall how the Sisters were not only keen observers of everything that went on in the wards, but wonderful listeners. They would always listen 100 percent when the nurses approached them for professional and personal advice. Comforting and consoling words were always forthcoming, not to mention the promise of a prayer for a satisfactory solution.
THEN AND NOW
In the 57th year of Mount Alvernia Hospital, much has changed. Today, medical records are stored digitally, state-of-the-art equipment has revolutionalised surgical procedures and electronic monitoring systems have spared the nursing staff much legwork. Although the hospital has grown from 60 beds in 1961 to a modern 17,490 sq m facility that is home to over 50 specialist clinics and 28 specialties, the values that underpinned the foundation of the original hospital have remained the same.
This article is taken from our My Alvernia Magazine Issue #33. Click here to read the issue on our website or on Magzter.